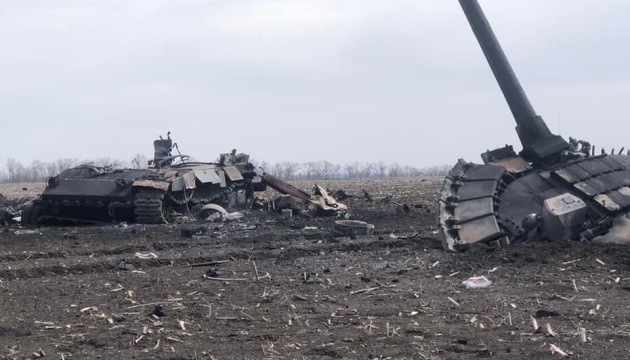 Ukrainian drone destroys Russian tank, 15 invaders
Military counterintelligence officers of Ukraine's SBU State Security Service have destroyed a Russian T-72 tank and 15 soldiers of the Russian army using an attack drone.
According to Ukrinform, the SBU posted a respective video on Telegram.
The security service also intercepted a phone call between a Russian soldier, an eyewitness of this event, and his mother.
"Mom, today we had a circus show! Fifteen KIAs at two o'clock in the morning. Because they watched a movie on a tank. In short, they dropped a bomb from a drone onto the turret! A drone, mom, a drone... They just flew up, dropped a bomb and it [the tank] was blown up," the SBU quoted the Russian as saying.
"And there is nothing to add about the fate of these invaders: they came to Ukraine, watched a movie, and died," the SBU added.