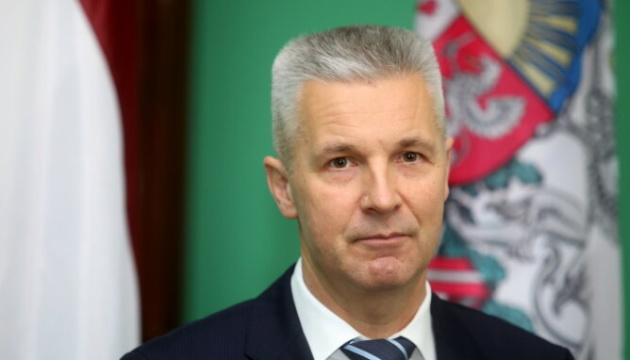 Ukraine has seriously weakened Russian army - Latvian defense ministry
During the ongoing war, Ukraine has weakened the Russian army to such an extent that the latter could launch a new offensive no earlier than in two years.
The opinion was expressed by Latvia's Minister of Defense Artis Pabriks, Ukrinform reports citing Delfi.
The minister stressed the need to reform the State Defense Service, which provides for mandatory military conscription.
According to Pabriks, Ukraine is literally giving Latvia time to prepare, and Latvia must act immediately to successfully deter the invader. The politician believes that any claims alleging that reforming the State Defense Service would be untimely due to the looming elections holds no criticism, being a lame excuse.
"There is a war, and Russia won't. Dragging time is Latvia's classic failure to act effectively. Therefore, we often spend time on long discussions, while being unable to make decisions," said the minister of defense.
He also explained that previously, few believed that a Russian attack and a war comparable to previous ones were possible as such. Now, Russia proved that "we must be ready to defend our territory against a brutal enemy outnumbering us," Pabriks emphasized.
Pabriks also emphasized the need to increase NATO presence in Latvia, recalling that a positive decision on this issue was made at the June summit in Madrid.
As reported, the Ministry has prepared a reform of the State Defense Service for Latvia. The new system will be implemented in stages over the next five years. From January 2023, citizens will be able to apply for military service voluntarily. Mandatory military conscription of young men aged 18-27 may be introduced in 2027.
On February 24, Russia began a new stage of the war against Ukraine – a full-scale invasion. The invaders have been shelling and bombing peaceful cities and villages of Ukraine, killing civilians. At the same time, various units of Russia's armed forces have suffered major losses.
Photo: LETA