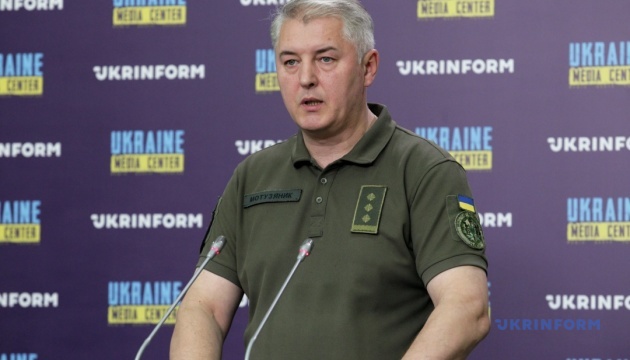 Nearly 70% of Russian missile strikes hit peaceful targets - Ukraine's defense ministry
Russian missile attacks on peaceful cities are proof of the genocide Russia is carrying out against Ukraine. According to statistics, 70% of enemy strikes target civilian objects across Ukraine.
This was announced by the spokesman for the Ministry of Defense, Oleksandr Motuzianyk, who spoke on the air of a nationwide telethon, Ukrinform reports.
"Yesterday's insidious criminal missile attack on the center of a peaceful city in Ukraine is yet another fact of Russia's absolutely proven genocide against Ukraine. This is the extermination of Ukrainians as a nation, this is an attempt to break the spirit of Ukrainians and lower the level of their resistance," the spokesman said.
He noted that only 30% of the total attacks by the Russian invaders engaged military targets, while the remaining 70% were deliberately inflicted on peaceful cities.
In this regard, Motuzianyk recalled Russian missile attacks on Mariupol, Zaporizhia, Mykolaiv, and other cities.
"Russia must be recognized as a terrorist state," the official emphasized.
According to the spokesman for the defense ministry, this terror can only be stopped militarily, by destroying the missiles that the Russian army fires at Ukrainian cities. Therefore, Ukraine needs modern air defense systems that would better protect Ukrainian skies.
Motuzianyk also noted that Ukraine is currently receiving modern weapons from the United States under the presidential program worth $40 billion, which must be spent by September-end. At the same time, according to the official, a visibly positive effect is expected of the lend-lease project as the nation will be able to choose the samples of weapons and military equipment required at any given moment.
"The kind of weapons we will need is, of course, determined by the General Staff. It is they who are working out the main plan for ​​Ukraine's defense operation," Motuzianyk noted, adding that today Ukraine needs long-range artillery that allows destroying the enemy's logistics.
As reported by Ukrinform, on July 14, Russian troops attacked the center of Vinnytsia with three Kalibr missiles, killing 23, including three children.
More than 10 powerful explosions rocked Mykolaiv on the morning of July 15. At least four people were injured.