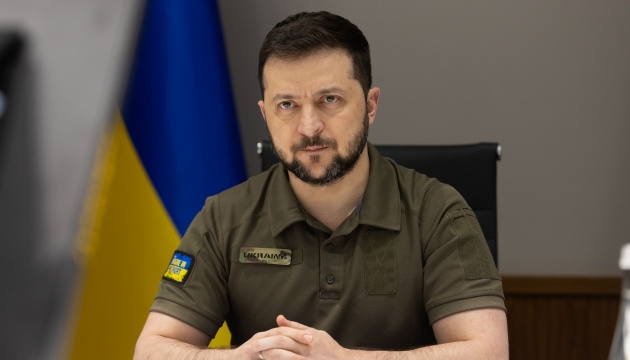 President: By striking Vinnytsia, Russia shows its attitude towards civilized world
Russia showed its attitude towards international law by striking Vinnytsia just when Russia's crimes were discussed at the international conference in The Hague.
President of Ukraine Volodymyr Zelensky said this in his latest address, Ukrinform reports.
Zelensky clarified that today he addresses not Ukrainian men and women, as usual, but our partners – the democratic world. He reminded that 23 people, including three children under the age of ten, had been killed in a missile attack on Vinnytsia. This number, unfortunately, may not be final as the rubble is still being removed.
"A girl is among the dead today in Vinnytsia, she was four years old, her name was Liza. The child was four years old! Her mother is in critical condition... Russia ended the girl's life just at the time when a conference on Russian war crimes was taking place in the Netherlands, in The Hague. A conference where it was decided what should be done to ensure that every Russian military is punished. Can you think of any other terrorist organization that would allow itself such audacity? To kill just at the moment when its previous crimes are the subject of international discussion. Russia has thus shown its attitude to international law, to Europe, and to the entire civilized world," the Head of State said.
The president added that dozens of people are listed as missing, and heavily wounded are among those hospitalized.
"One of the missiles destroyed the Neuromed medical center. There were people inside. Nataliya, she is 40 years old. Tetiana, she is 32 years old. Volodymyr, he is 61 years old. Vira, she is 55 years old. I saw them among the missing. You see, it was not even known what happened to the people who simply went to the medical center. And if someone launched a missile attack on a medical center in Dallas or Dresden, God forbid, what would it be called? Wouldn't it be called terrorism?" the President stressed.
As noted, this day once again proved that Russia must be officially recognized as a terrorist state: "No other state in the world poses such a terrorist threat as Russia. No other state in the world allows itself to destroy peaceful cities and ordinary human life with cruise missiles and rocket artillery every day."
Zelensky added that no one can now have any doubt that a special tribunal on Russian aggression against Ukraine is needed as soon as possible. Also, a special compensation mechanism must be implemented as soon as possible, with the help of which all Russian assets and funds in all countries of the world must be confiscated and aimed at compensations for the victims of Russian terror.
As reported, on July 14, the Russians hit Vinnytsia city center by Kalibr cruise missiles, launching them from a submarine in the Black Sea.
ol