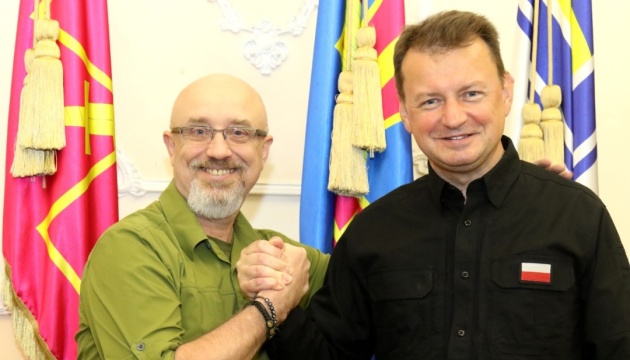 Ukrainian, Polish defense ministers discuss arms supplies to Ukraine
Ukrainian Defense Minister Oleksii Reznikov and his Polish counterpart Mariusz Blaszczak have discussed the necessary military aid to Ukraine from Poland.
The Ministry of Defense of Ukraine said this in a statement posted on its website, Ukrinform reports.
Reznikov thanked Poland and his Polish colleague for supporting Ukraine in its fight against the terrorist state - the Russian Federation.
"I am glad to welcome Mr. Mariusz Blaszczak as our guest. He is a good friend of Ukraine. Our acquaintance with him began with a phone call after my appointment. Back then, I told my colleague that Lithuania gave us Stingers. He immediately asked me, 'How can I help?' This is how the idea of the Piorun man-portable air defense system was born. Currently, Polish MANPADS are very successfully reducing the number of Russian aircraft and helicopters," Reznikov said.
He also noted that Poland is one of the first countries that felt the impact of the Russian invasion of Ukraine. Civilians, children and elderly people who have been forced to flee this war, first of all, went to Poland, which received them hospitably.
"Poland ranks second in the world after the U.S. in terms of assistance to Ukraine. Just appreciate it. The people of Poland really consider themselves a real friendly neighbor who wants to help us," Reznikov said.
Blaszczak, in turn, said that Ukraine deserves to be free and independent.
"A free Ukraine means a free Poland. If Ukraine, God forbid, fails to win, it will mean a threat to Poland's security. In this regard, we are interested in Ukraine being free in order to stop Russian aggression. Our Pioruns passed a good test on the battlefield. We believe that the supply of Polish Krab will be of great importance to Ukrainian artillery," Blaszczak said.
Photo: Ministry of Defense of Ukraine