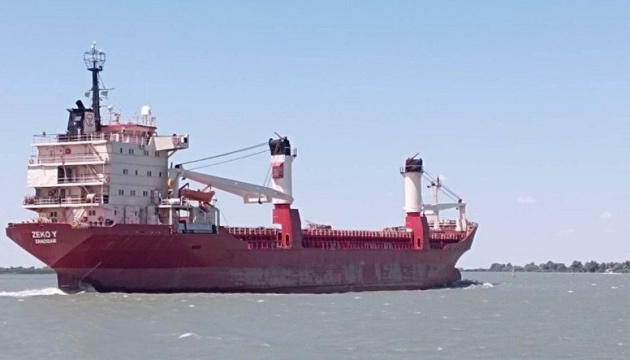 Eight foreign ships enter Ukrainian ports to take out grain
The first eight foreign ships arrived at the ports of Ukraine to export agricultural products, while the Ukrainian Navy is involved in ensuring safe transportation.
This was announced on Facebook by the Navy press service, Ukrinform reports.
"At the request of the Ministry of Infrastructure, the Naval Forces of the Armed Forces of Ukraine joined the effort to ensure transportation of agricultural products by civilian ships through the Bystre mouth of the Danube-Black Sea channel. The first group of eight foreign ships has already arrived at the ports of Ukraine," the statement reads.
It is noted that the use of the channel became possible thanks to the liberation of Snake Island from the Russian occupiers, which "allows the forces to control the surface and partly air situation in the south of Ukraine. Previously, the occupiers used to block the movement of civilian vessels in the southern part of our country."
The Navy recalled that earlier, due to the blockade of civilian navigation, shipping companies were forced to use the Sulina Canal, which led to the accumulation of a large number of vessels and significant traffic at the canal.
As reported, due to the Russian aggression and the blocking of navigation in the Black Sea, millions of tonnes of Ukrainian grain were stuck in Ukrainian ports, a large part of which was intended, according to the UN World Food Program, to combat the global crisis. By partially restoring the export of agricultural products by river, Ukraine contributes to solving the global crisis.
Most of our country's ports remain closed as Russian troops continue to attack critical infrastructure facilities and civilian vessels in the Black Sea. Recently the enemy launched a missile strike on the Millennial Spirit bunker ship flying a flag of Moldova, effectively sinking the ship.