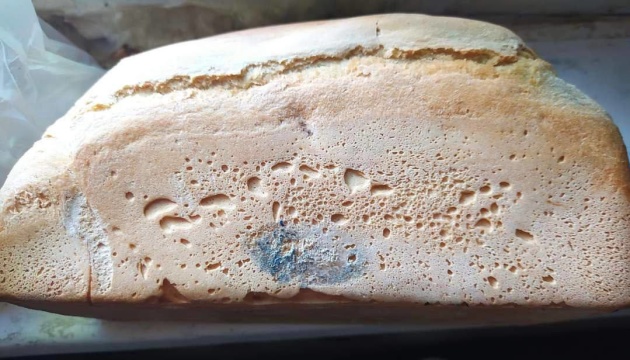 Russian "humanitarian aid" to Mariupol: moldy stale bread, shovels
Moldy bread and a batch of shovels were delivered to the temporarily captured Mariupol from Russia's Tula region as part of the so-called "humanitarian aid."
That's according to a Mariupol Mayor's adviser Petro Andriushchenko, who posted on Telegram the photos of the aid consignment, signed "to Donbas residents from the United Russia party in Tula region."
"Tula's humanitarian aid is a new low of Russian assistance. Moldy stale bread and shovels. I even lack enough sarcasm to comment on such care for the people of Mariupol," Andriushchenko wrote in a caption to the said set of photos.
As reported, Russian aggression caused one of the biggest humanitarian disasters in Mariupol. The city has been almost completely destroyed by enemy shelling and bombing. Local enterprises, utility infrastructure, schools, kindergartens, hospitals, and apartment blocks have been wiped out or severely damaged.
Today, Mariupol has no stable supply of power, water, and gas. Since the Russian invasion, about 22,000 civilians have been killed in the city. More than 50,000 have been deported to Russia and the temporarily occupied territories of Donetsk region.
Currently, more than 100,000 residents remain in the blocked city. Mariupol is facing an ecological disaster and an outbreak of infectious diseases.