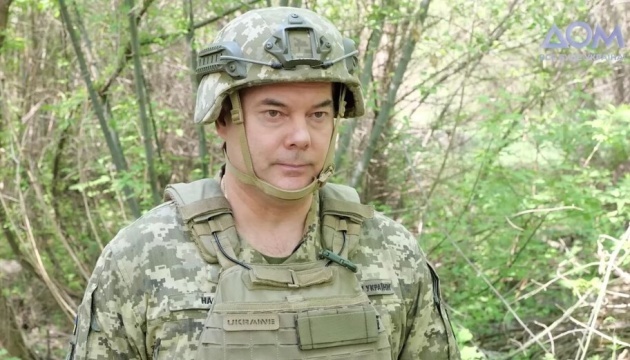 Threat of renewed offensive from Belarus: Naiev inspects Ukraine Army positions in the north
The Commander of the Joint Forces Task Force of the Ukrainian Armed Forces, Lieutenant General Serhii Naev, has made a working trip to the Northern Operational Zone, where measures to strengthen Ukrainian defenses are ongoing.
The press service of the Joint Forces Task Force said this on Facebook, Ukrinform reports.
According to the report, Naiev visited the positions of Ukrainian service members and border guards, who became a strong "shield" in order not to give the enemy any chance to repeat the attack from the north.
He also spoke to Ukrainian defenders at the positions, got acquainted with their service conditions, assessed the level of defense and discussed tactical defense plans.
"Now, the situation is under full control of the military units of the Ukrainian Armed Forces, units of the State Border Guard Service, units of other military formations and law enforcement agencies. Every day, our defenders carry out a set of measures to improve the engineering equipment of defensive positions," Naiev said.
According to the commander, measures are currently being taken to mine dangerous areas and install engineering barriers.
Units of the State Border Guard Service of Ukraine are taking measures to strengthen the state border of Ukraine in all dangerous and threatening areas.
According to him, the work continues both in the headquarters and military administration bodies, where experienced combat generals perform tasks every day to strengthen Ukrainian defense lines in all directions. The commanders of brigades, battalions, companies and platoons skillfully manage subordinate personnel directly on the ground.
"This work proves the conscientious and correct attitude of all service members to the situation. All this gives us confidence that the defense will be stable and impenetrable for the enemy," he said.