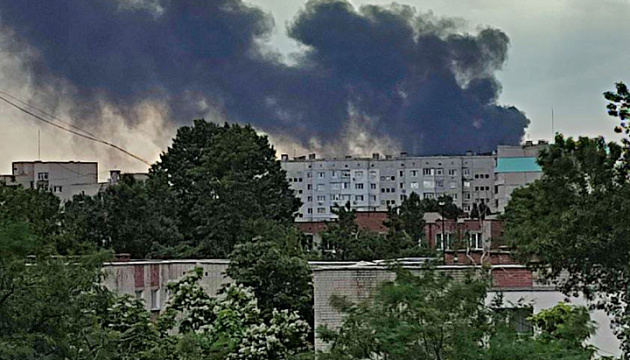 Ukraine's Armed Forces hit enemy ammunition depot in Nova Kakhovka
In Kherson region, the consistent destruction of the enemy in the rear is ongoing. Today, the Armed Forces hit an ammunition depot in Nova Kakhovka. Yesterday, a traitor was killed and a depot in Chornobayivka was smashed.
"Today, virtually two hours ago, an ammunition depot in Nova Kakhovka was hit. Moreover, according to preliminary information, a traitor, a former policeman who agreed to cooperate with the occupiers, Serhiy Tomka, was killed there [in Nova Kakhovka] yesterday," Serhiy Khlan, member of the Kherson Regional Council, adviser to the Head of the Kherson Regional Military Administration, posted on Facebook.
A cluster of military equipment was smashed in Chornobayivka yesterday, he added.
As reported, on May 30, the invaders cut the Internet and mobile communications provided by the Ukrainian operators in Kherson region. The Russians block "green corridors", evacuation efforts, and kidnap civilians of the region.
Kherson collaborator Stremousov says that the region gets ready for a "referendum" on joining Russia, and even has already announced its result.
ol