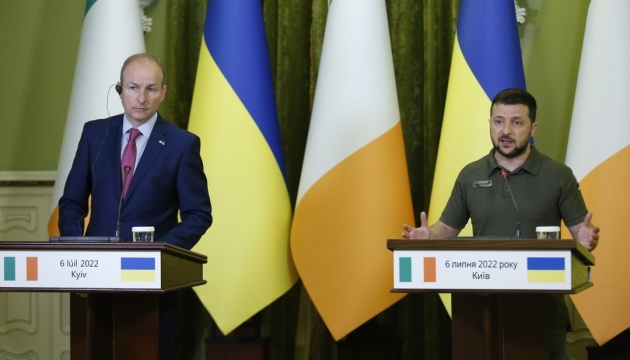 Russia has not even begun to think about peace, trying to circumvent sanctions - Zelensky
Ukrainian President Volodymyr Zelensky believes that Russia does not yet feel the effects of international sanctions, is trying to circumvent the restrictions already imposed and does not even think about peace.
He said this at a joint press conference with the Prime Minister of Ireland, Micheál Martin, according to an Ukrinform correspondent.
"The answer to this question depends on all of us. [It depends on] how quickly we can do that, how quickly we can get Russia to think about peace, because they haven't even begun to think about it, they haven't felt the impact of the sanctions yet. They [the consequences of sanctions] will definitely happen, but they [the Russians] do not feel them, they are circumventing them, because, unfortunately, there are still some allies who help the Russian Federation or their [Russian] business," Zelensky said, commenting on when the war will end.
He emphasized the importance of the world continuing to put pressure on Russia, including political pressure, as well as speeding up the provision of arms to Ukraine.
According to Zelensky, there is another option to end the war - when Russia itself realizes what it has done and leaves Ukrainian territory. At the same time, the head of state does not believe that the Russians can do it on their own.
Zelensky said that it is difficult to call Russia's aggression against Ukraine a military conflict or even a war, given the consequences of Russian actions against Ukrainians. According to him, this is "an open act of terrorism by the Russian Federation."
On February 24, 2022, Russia launched an all-out invasion of Ukraine, continuing the armed aggression that has been ongoing since 2014. Russian troops are shelling and destroying critical infrastructure and residential areas of Ukrainian cities, towns and villages using artillery, multiple rocket launchers, air bombs and ballistic missiles.