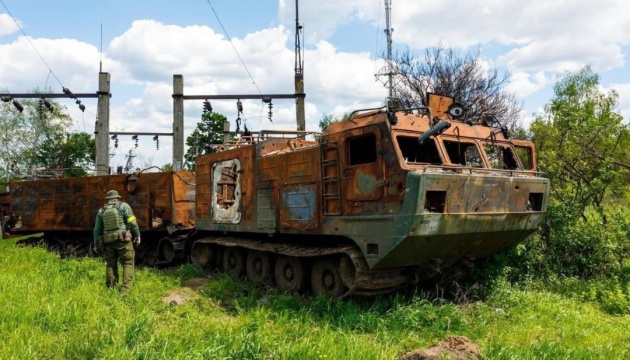 Ukraine's south: Air Force pilots hit Russian ammo depot, group of troops
On July 1, in the southern parts of Ukraine, the Air Force warplanes engaged Russian army strongholds and ammunition depots.
This is reported by Ukrinform with reference to Operational Command South.
"Operating in pairs, our pilots struck ammunition depots, a strong point, and a cluster of enemy troops and equipment in the area of ​​Snihurivka, Blahodatne, Olhany, and Davydiv Brid. The results are still being verified, but it is already clear that the enemy's army in Kherson region has been reduced by 27 missiles, a Tor SAM launcher, a Msta-S self-propelled howitzer, three armored vehicles and trucks, and three field ammunition depots," the report says.
It is also noted that in the evening, enemy aviation tried to attack Odesa again. The Kh-31 missile, launched from an airplane over the sea, was destroyed by an anti-aircraft missile unit.
A military operation to clear Snake Island of the occupiers is also ongoing.
"Throughout the day, according to our reconnaissance, the Grad MLR system, another anti-aircraft rocket-gun complex Pantsir-S1, three units of armored vehicles and trucks, a tanker, and a ​​storage site for other equipment were located and destroyed. No signs of the enemy's presence were found," said the military.
The Command also recalled that two enemy missile carriers, with more than a dozen cruise missiles on board, continue to be present in the northwestern part of the Black Sea, posing a threat of strikes across Ukraine.
"Three large landing craft have joined them. Not feeling protected, they keep a safe distance from the Ukrainian coast," the military added.