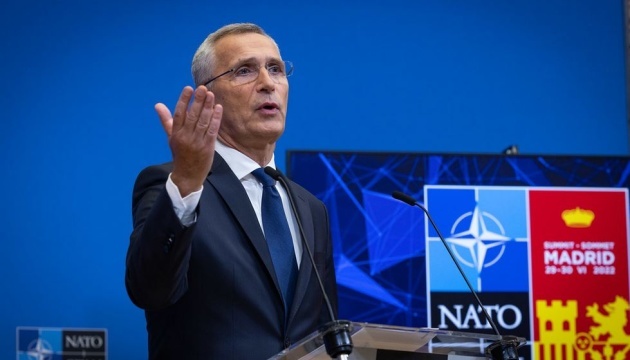 Stoltenberg: NATO intends to help Ukraine transition to modern NATO standard equipment
Ukraine needs modern weapons to fight Russian aggression, and NATO will help it switch from Soviet-era equipment to modern weapons.
"We support the idea of bringing a lot of advanced equipment, including also Western modern equipment and many different types of equipment… And actually, NATO now has tasked to help Ukraine transition from old Soviet-era equipment to modern NATO standard equipment. Ukraine needs a wide range of modern, heavy NATO-standard equipment," NATO Secretary General Jens Stoltenberg said following the meeting of the North Atlantic Council at the level of Heads of State and Government, an Ukrinform correspondent reports.
He noted that the Allies decided to support Ukraine, to make sure that Ukraine prevails as an independent sovereign state in Europe.
"President Putin's brutal war against Ukraine is absolutely unacceptable. It's causing a lot of death, damage for the Ukrainian people, but it also has ramifications over the whole world, not least because of the increase in food prices. So it's President Putin that should withdraw its forces and end this war immediately by stopping attacking a democratic sovereign nation and causing so much suffering in Ukraine," Stoltenberg added.
As reported, a summit of NATO Heads of State and Government took place in Madrid on June 28-30. NATO leaders approved a new Strategic Concept for the Alliance, setting out the priorities for the next decade, adopted a new broad package of aid for Ukraine in its resistance against the Russian invasion, and also greenlighted the accession of Finland and Sweden to the Alliance.
ol