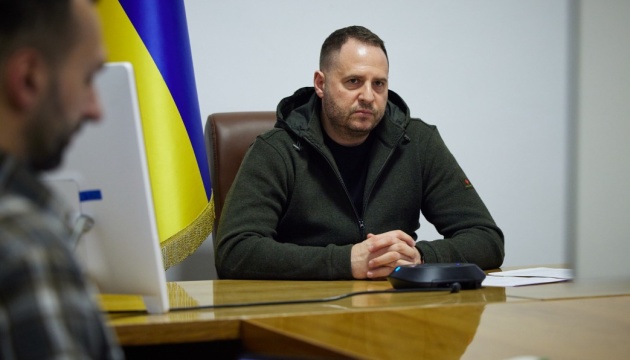 Yermak debunks Russia's claim of "goodwill" move to retreat from Snake Island
The head of the President's Office, Andriy Yermak, called out Russia's claim of a "goodwill move" to withdraw its forces from the Ukrainian island of Zmiinyi (Snake Island), stressing that it was the Ukrainian Army that knocked the invaders out.
Yermak addressed the issue on Telegram, Ukrinform reports.
"In Russia, they talk about the alleged withdrawal of troops from Snake Island and present it as a 'goodwill gesture.' It's the same as Russia claiming they do not interfere with humanitarian corridors for Ukrainian grain exports. But all this is a total fake. First, it was the Ukrainian Armed Forces that drove the Russians out of Snake Island, "Yermak stressed.
In addition, Yermak recalled that the Russians hit Ukrainian grain storage facilities in Ukraine – the latest incident recorded this morning in Dnipropetrovsk region.
"Russia continues to provoke a food crisis and to lie. They are still blocking our ports and destroying grain. They seek a global Holodomor," he said.
Earlier, Operational Command South of Ukraine's Armed Forces reported that as a result of a successful stage of the operation by Ukrainian troops, the Russians hastily evacuated what was left of their garrison from Snake Island. The final results of the Ukrainian operation are being verified.
The Ministry of Defense of the aggressor power claimed that the withdrawal of the invading troops from the Ukrainian island was a "gesture of goodwill."
Photo: Ukrainian President's Office