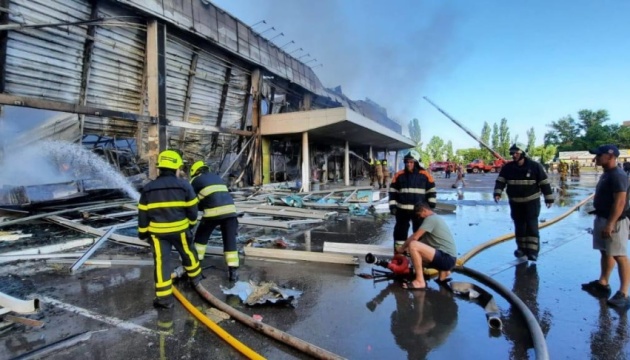 First data on Kremenchuk mall casualties: Two dead, 20 injured in Russian missile strike
As a result of a Russian missile attack on a Kremenchuk mall, at least two were killed and 20 more were injured.
That's according to a preliminary report by Kyrylo Tymoshenko, Deputy Head of the Ukrainian President's Office, seen by Ukrinform.
"At the moment we know of 20 injured, nine of them in serious condition. It has already been confirmed that two people were killed," the official wrote on Telegram, adding that the rescue operation is underway.
Rescuers from nearby areas have been deployed in Kremenchuk, while hospitals across the region are preparing to receive victims of the Russian missile attack on the city's shopping and entertainment center that set the site on fire earlier today, while nearly a thousand visitors were believed to be inside.
"We are doing everything we can to help the victims as soon as possible. We send ambulances to the scene, we prepare regional hospitals to receive those affected. Rescuers from all the surrounding areas are rushing to the scene to put out the fire and work to eliminate the consequences," Tymoshenko said.
According to the official, the missile strike on the shopping center in Kremenchuk is yet another confirmation that Russia seeks to inflict maximum damage to Ukraine and Ukrainians.
"This is not a military facility, it has no strategic value. An ordinary shopping mall, where people came to shop, "he said.
In turn, the Head of the President's Office, Andriy Yermak, stressed that Russia should be recognized as a sponsor of terrorism, while Ukraine needs more weapons and air defense systems to protect its people.
"Kremenchuk. A crowded venue, an ordinary day. The Russians hit the mall with their missiles. They said they would hit decision-making centers. But even the sickest imagination couldn't guess that they see shopping malls as such centers," he said.
As Ukrinform reported earlier, the Russians shelled a mall in Kremenchuk, with nearly a thousand people inside.
Photo: State Emergency Service of Ukraine