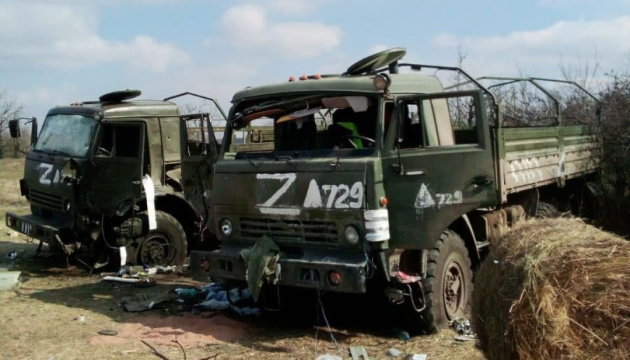 Ukraine Army eliminates 39 invaders, destroys tank, 4 armored vehicles in Ukraine's south
The situation in the southern operational zone remains dynamic and tense, but under the control of the Ukrainian defense forces. Over the past 24 hours, 39 invaders were eliminated, and an enemy tank was destroyed along with four armored vehicles.
This was announced on Facebook by Operational Command South, Ukrinform reports.
"The enemy continues to rain fire at the civilian population in the liberated villages and our positions along the line of contact. The fighting takes place mainly in the form of artillery duels and air raids. Pursuing its futile efforts to retake lost positions in the area of Potiomkonovo, the enemy carried out a desperate air strike on our positions, involving a Mi-28 helicopter. No casualties," the statement said
Trying to take a sneak peek of the positions of Ukrainian units in Kherson region, the enemy intensified air reconnaissance efforts.
Three Orlan-10 UAVs were downed in the area, the report adds.
The enemy also launched volley fire on Zelenodolsk, using Uragan MLR systems, which released more than 20 rockets. As a result of the attack, a fire broke out in the local summer house district area. In addition, several apartment blocks, a sports school, a post office, and a community center were damaged. Funnels and shrapnel were found in the town park zone. Two civilians were injured.
Velyka Kostromka was fired upon three times throughout the day. The power line was damaged but no casualties were reported.
Ukrainian fighter jets and helicopters, operating in pairs, conducted three air strikes targeting clusters of enemy manpower and military equipment in three districts of Kherson region.
In total, the enemy's confirmed losses per day include 39 rucists, a T-72 tank, four other armored vehicles, and three trucks. Also two ammo depots were hit in Mykolaiv region and another one – in Kherson region.
Russia keeps blockading navigation in the Black Sea, where the storm is also continuing. Two warships carrying 16 Kalibr missiles are fully combat-ready, therefore, the threat of missile strikes remains relevant.