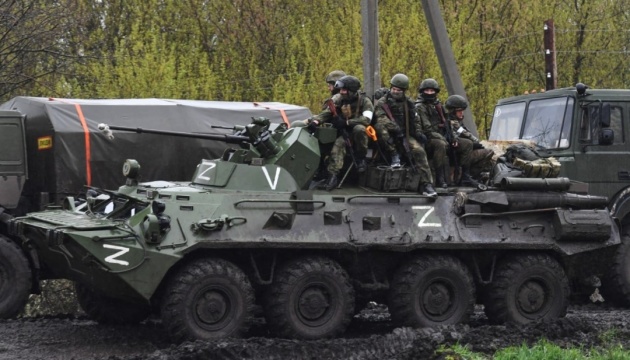 Enemy attempting to encircle Ukrainian soldiers near Lysychansk
In the Donetsk direction, enemy forces are concentrating their main efforts on attempts to encircle units of the Ukrainian Defense Forces near Lysychansk.
The General Staff of the Armed Forces of Ukraine said this in its latest war situation update, Ukrinform reports.
"The enemy fired near Vovchoiarivka, Loskutivka, Bila Hora, Verkhniokamianka, Vyimka, Verkhniokamianske and Zolotarivka. A pair of Su-25s launched an air strike near Bila Hora," the statement said.
In the Volyn and Polissia areas, the situation with regard to the activities of the Belarusian armed forces has not changed. The threat remains of Russia using missiles from the territory and airspace of Belarus.
In the northeastern direction, the aggressor fired artillery at Ukrainian positions in the border areas of the Sumy and Chernihiv regions.
In the Kharkiv direction, the enemy continues to conduct defensive operations. The enemy fired artillery outside the settlements of Udy, Kharkiv, Bazaliivka, Ruski Tyshky, Staryi Saltiv, Verkhnii Saltiv, Kutuzivka, Rubizhne, Dementiivka, Chepil, Svitlychne, Korobochkine, Ivanivka, Shestakove and Pechenihy.
In the Sloviansk direction, the enemy concentrated its main efforts on conducting an offensive toward the settlements of Dovhenke and Mazanivka. The enemy used artillery and multiple rocket launchers near Nova Dmytrivka, Khrestyshche, Dibrivne, Bohorodychne, Novopavlivka, Adamivka, Hrushuvakha, Vernopillia, Krasnopillia, Mazanivka, Vesele and Kurulka.
In the Kramatorsk direction, the enemy used artillery outside Mayaky, Pyskunivka, and Siversk.
In the Avdiivka, Kurakhove, Novopavlivka and Zaporizhzhia directions, enemy forces are attempting to restrain Ukrainian troops and prevent them from being transferred to threatening directions.
The enemy used tanks and artillery outside the settlements of Keramik, Krasnohorivka, Sieverne, Vodiane, Opytne, Umanske, Tonenke, Karlivka, Novomykhailivka, Marinka, Paraskoviivka, Pavlivka, Shevchenko, Prechystivka, Zolota Nyva, Komar, Novochivka, Velyka Novosilka, Volodymyrivka, Huliaipilske, Bilohiria, Novopil, Chervone, Zelene Pole, Huliaipole and Malynivka.
In the Southern Buh direction, the enemy is concentrating its main efforts on keeping control of the occupied area and firing at Ukrainian units in order to prevent the regrouping of troops. Ukrainian aircraft, in the respective areas, struck enemy positions. The losses of the occupiers are being clarified.
In the Black and Azov Seas, the main efforts of enemy ships are focused on blocking civilian shipping in the northwestern part of the Black Sea. Two carriers of Kalibr cruise missiles are ready to use missile weapons in the Black Sea.
Units of the Ukrainian Armed Forces continue to successfully carry out missile and artillery fire missions in designated areas.