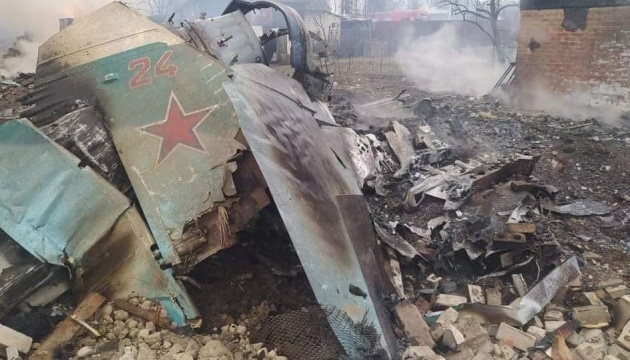 Russian army lacks pilots amid heavy losses - British intel
The Russians are forced to employ retired pilots to operate warplanes over the high death toll in the air force during the invasion of Ukraine.
That's according to a tweet by the British Defense Intelligence, seen by Ukrinform.
Ukrainian forces have announced that the pilot of a Russian Su-25 Frogfoot ground attack aircraft shot down on June 17 was captured shortly afterwards, according to the report. The pilot has confessed to being a former Russian air force Major, who had taken employment as a Wagner military contractor and had flown several missions during the conflict.
"The use of retired personnel, now working as Wagner contractors, to conduct close air support missions indicates that the Russian air force likely is struggling to support the invasion of Ukraine with sufficient aircrew," the report stresses. "This is likely due to a combination of Russia's insufficient numbers of suitably trained personnel and its combat losses."
Also worth noting is that, whilst conducting his missions, the Russian pilot reportedly used commercial GPS devices rather than Russian military navigation equipment.
"This likely indicates that Wagner aircraft are older models of the Su-25 and that the Russian air force is not providing Wagner with up-to-date avionics equipment," the report concludes.