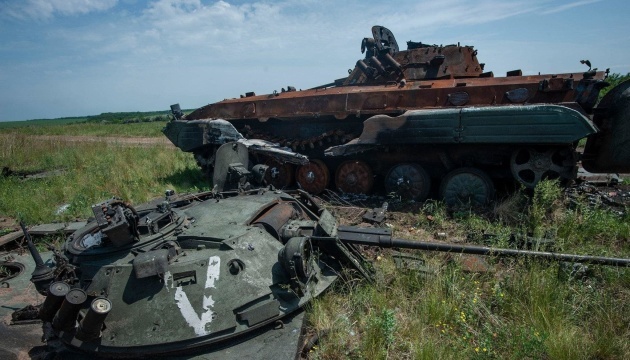 Ukrainian military strike enemy positions five times in southern Ukraine, partisans continue resistance
On June 23, 2022, Ukraine's aviation struck enemy positions five times, having destroyed Russian personnel and military equipment in southern Ukraine.
The relevant statement was made by the South Operational Command on Facebook, an Ukrinform correspondent reports.
Over the past day, the Ukrainian military have eliminated 44 Russian occupiers and destroyed two 152 mm guns (Giacinth-B and Msta-B), as well as some armored and motor vehicles at the southern front.
"Ukrainian partisans continue resistance within the temporarily occupied areas. This way they are hindering the activity of Russian occupation 'authorities' in Kherson Region," the South Operational Command noted.
In the southern operational zone, the enemy continues defensive operations and counterbattery fire. Russian invaders did not take active actions and did not create new strike groups. In the Mykolaiv direction, Russian occupiers deployed artillery units to provide fire support for their forces.
"But, the enemy's plans are rather obvious and receive an adequate response," the South Operational Command stressed.
In the meantime, Russia continues to follow its missile attack tactics as an instrument of combat and psychological pressure. In particular, Russian missiles hit social infrastructure facilities, such as a hospital, children's sports school and stadium. Some missiles were destroyed by the Ukrainian anti-aircraft defense units.
In the north-western part of the Black Sea, the enemy's naval group is attempting to maintain a favorable operational mode. But, adverse weather conditions are forcing them to shelter at home stations now and then. Four Russian missile ships and three large landing crafts are remaining in the Black Sea.
mk