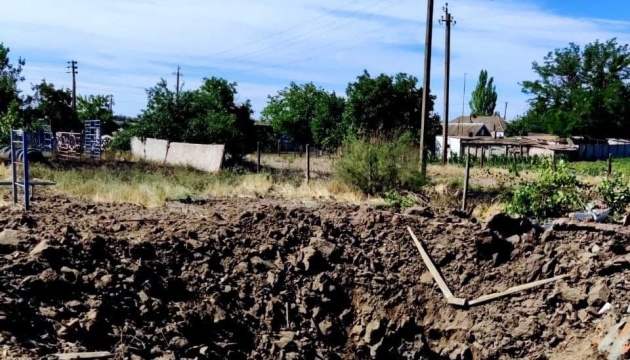 Russian invaders use cluster munitions in Mykolaiv Region, casualties reported
One civilian has been killed and six injured in Russia's shelling of the city of Mykolaiv and Mykolaiv Region over the past day. Residential houses, industrial enterprises and infrastructure facilities were damaged.
The relevant statement was made by Mykolaiv Regional Military Administration on Facebook, an Ukrinform correspondent reports.
In the morning of June 21, 2022, the Russian military launched missile strikes on a Mykolaiv-based industrial object, causing damage to the premises of the enterprise. In addition, they fired at residential areas with prohibited cluster munitions.
"One of cluster munitions exploded in the yard of a detached house. Two men stood there. One of them died at the scene, and the other one was injured and provided with medical aid," the report states.
On June 21, 2022, Russian troops also shelled the Shyroke community, Bashtanka District. The roof of the school and three residential houses were damaged. Russian projectiles also hit farm lands. Two civilians were injured in the Inhulka community.
Social infrastructure facilities were damaged in Russia's shelling of Solonchaky, Mykolaiv District.
In the afternoon of June 21, 2022, Russian invaders opened fire on Ochakiv. One civilian was injured; two social facilities, port infrastructure, residential houses, garages and cars were damage. On the outskirts of Ochakiv, crop fields caught fire. Gas supply services were interrupted for 250 household consumers.
In addition, Russian troops fired at Pervomaiske and Novomykolaivka, leaving one civilian injured and residential houses damaged. The dry wood and crop fields caught fire.
One civilian was injured in Russia's shelling of Chervone, which is part of the Voskresenske community. Grass and crop fields were on fire.
Meanwhile, industrial infrastructure was damaged in the Mishkovo-Pohorilove community.
A reminder that over 5.5 thousand civilian objects have been damaged in Mykolaiv Region since the Russian invasion started.
mk