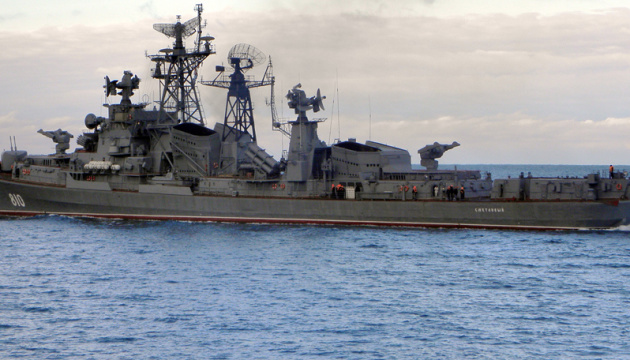 Two Russian warships carrying 28 cruise missiles remain in Black Sea
Russia's naval group in the Black Sea has decreased by one missile ship, and now there are two Russian warships ready to fire 28 cruise missiles from the sea.
The relevant statement was made by the South Operational Command on Facebook, an Ukrinform correspondent reports.
In southern Ukraine, Russian troops continue to conduct hostilities, following the tactics of counterbattery confrontation. They are also firing at rear positions, liberated settlements and the settlements located farther from the contact line.
In particular, last night the enemy fired at the Shyroke community, Mykolaiv Region. Residential houses were damaged, but no casualties were reported.
The Bereznehuvate community is remaining under enemy fire. The data on casualties and the damage caused is yet to be checked.
In Kherson Region, the situation is challenging in Beryslav District and Kakhovka District. Civilian houses were damaged and destroyed in shelling. Many infrastructure facilities were mined.
Local residents are continuously reporting on cases of looting by Russian invaders, threatening farmers and entrepreneurs, abducting people.
Meanwhile, Russian propagandists are increasingly spreading fake news stories about damage to airdromes and other critical, strategic and military infrastructure facilities in the region.
"Apparently, something in our actions is very disturbing to the enemy," the South Operational Command noted.
In addition to two Russian missile ships, three submarines and three large landing crafts are remaining in the Black Sea. The enemy is ready to launch 28 cruise missile strikes from the sea.
mk