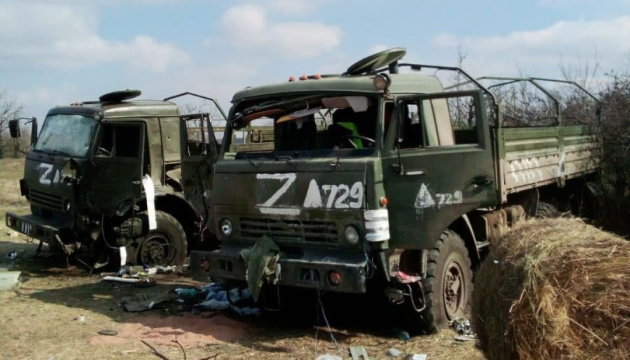 Ukraine's Armed Forces eliminate almost 30 invaders, enemy equipment in southern Ukraine
The Ukrainian Armed Forces destroyed 28 invaders and enemy equipment, including a howitzer, drones and a tank, in southern Ukraine on June 19.
That's according to the Operational Command South, Ukrinform reports.
"Failing to advance by land, the enemy is intensifying air strikes. Near Apostolovo, an enemy fighter used an air-to-air cruise missile against our bomber. Our pilot demonstrated his skills in a virtuoso evasion of the attack. Also in the Kherson region, an enemy Ka-52 tried to strike at our positions, but preferred maneuver and escape under fire of worthy repulse," the statement said.
It added that in the Mykolaiv region, an anti-aircraft missile unit of Ukraine's Armed Forces accurately destroyed an unmanned reconnaissance aerial vehicle.
The total enemy losses amounted to 28 invaders, a 152mm howitzer, a tank and two military vehicles.