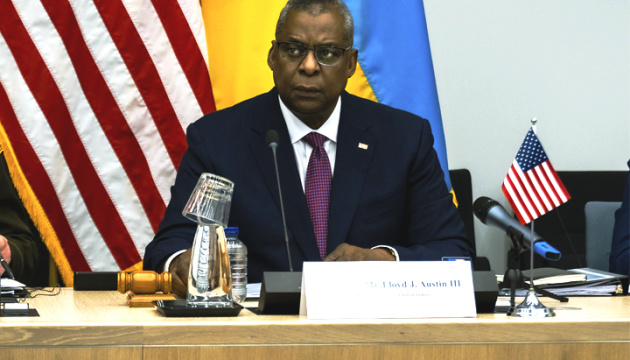 Harpoon systems and HIMARS ammo: Pentagon chief outlines new security assistance package for Ukraine
An additional security assistance package for Ukraine, totaling $1 billion, approved by U.S. President Joe Biden on Wednesday, includes Harpoon anti-ship missile systems, HIMARS ammunition, additional M777 howitzers, and many more.
The relevant statement was made by U.S. Secretary of Defense Lloyd Austin during his speech in Brussels, following the Rammstein 3 meeting, an Ukrinform correspondent reports.
"It [the new security assistance package – Ed.] includes guided MLRS ammunition, 18 more M777 howitzers, tactical vehicles to tow them, and 36,000 rounds of 155mm ammunition," Austin said.
This package also includes $650 million in Ukraine Security Assistance Initiative (USAI) funds.
"That will help Ukraine to defend itself with two additional Harpoon coastal defense systems, thousands of secure radios, Night Vision devices, thermal sights, and other optics," Austin noted.
In addition, the new package includes funding for training, maintenance, sustainment, transportation, and administrative costs.
According to Austin, new security assistance packages for Ukraine have been announced by other allies and partners today.
Austin expressed gratitude to Germany that announced they would provide three MLRS and guided MLRS munitions to Ukraine, as well as Slovakia that announced a significant donation of Mi-17 helicopters and urgently needed rocket ammunition. Austin also mentioned important new artillery donations from many countries, including Canada, Poland and the Netherlands.
"I am grateful to these countries and to all of the countries helping Ukraine to defend itself," Austin stressed.
A reminder that a third meeting of the Ukraine Defense Contact Group took place in Brussels on June 15, 2022, bringing together defense representatives from about 50 countries.
mk