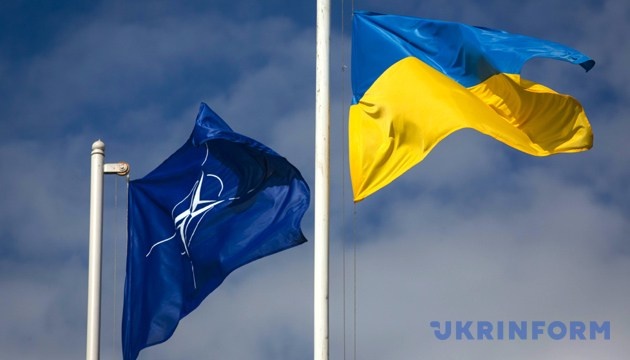 Stoltenberg: Ukraine should have more heavy weapons
Ukraine should have more heavy weapons from NATO countries to counter the Russian invasion, and this issue will be discussed at the NATO headquarters of the Contact group for support to Ukraine today, June 15.
"Ukraine should have more heavy weapons. And NATO Allies and partners have provided heavy weapons for a long time, but they are also stepping up. There will be a meeting tomorrow [June 15] at the NATO headquarters of the Contact group for support to Ukraine. This is a format that was established at Rammstein Base a couple of months ago and it meets regularly to coordinate efforts by NATO Allies and partners to provide different types of weapons, of military equipment, including heavy weapons to UA. Because they absolutely depend on that to be able to stand up against the brutal Russian invasion," NATO Secretary General Jens Stoltenberg said at a press conference following a meeting of leaders of seven NATO Allies on June 14.
He added that NATO Allies had supported Ukraine for many years. Since 2014, NATO Allies have trained and equipped tens of thousands of Ukrainian soldiers and officers, who are now on the frontline. "But they need to be prepped for the long haul, as there is no way to predict how and when this war will end. So they need to be ready to continue for a long time and we will continue to provide support. And that will be addressed tomorrow in Brussels," NATO Secretary General said.
In turn, Prime Minister of the Netherlands Mark Rutte said at a press conference that his country, together with Germany, would soon be ready to send 12 Panzerhaubitze 2000 self-propelled howitzers to Ukraine, immediately after the Ukrainian crews finish training.
"In terms of weaponry, we are also standing united here that it is crucial for Russia to lose the war. As we cannot have a direct confrontation between NATO troops with Russia, what we need to do is to be sure that Ukraine can fight at war and has access to all the necessary weapons. As we have done with Germany a couple of weeks ago – we are now training Ukrainians on Panzerhaubitze 2000 systems, and we hope to ship as soon as possible 12 of those to Ukraine from Germany and the Netherlands as soon as possible," Rutte said.
He noted that there are two things that really unite NATO allies: transatlantic orientation and the absolute need to support Ukraine militarily. Therefore, they will work to provide Ukraine with as much assistance as possible, including humanitarian support and heavy weapons.
As reported, German Defense Minister Christine Lambrecht told reporters that Ukraine will soon receive Panzerhaubitze 2000self-propelled howitzers.
The possibility of transferring these systems to Ukraine became known in May. There are 12 such howitzers - seven from Germany and five from the Netherlands.
ol