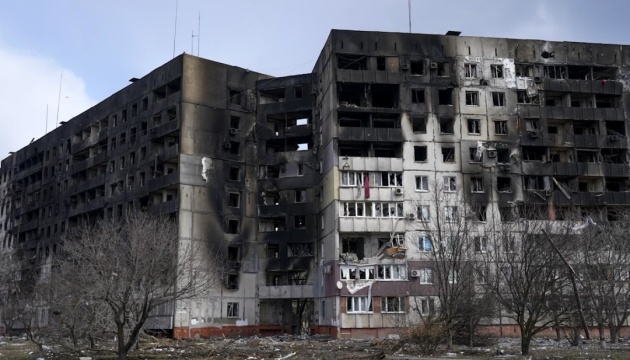 Russians invaders, collaborators selling humanitarian aid in Mariupol
In captured Mariupol, the invaders and their collaborators from among the locals began trading in stolen humanitarian aid.
That's according to Petro Andriushchenko, an advisor to the Mariupol mayor, who issued a report via Telegram, as seen by Ukrinform.
"Mariupol. The occupiers, together with collaborators, began trading in the stolen humanitarian aid. The Russian one. The son of a sham mayor, Vadym Kostiantynovych Ivashchenko, who took over the function of a hustler close to power circles, found a common language with the staff of the Russian Ministry of Emergencies. Not without the help of Urzuf collaborators Ivan Topuzov and his accomplice, cohabitant Tatiana Butyaeva. Now together they simply steal humanitarian aid coming from the Russians, and then sell it through a network of entrepreneurs," Andriushchenko wrote.
He explained that the sale has been set up through their confidant traders, who have been warned that in case they refuse to cooperate, they will be immediately incarcerated. Mariupol district deputy Serhiy Kosenko, a right-hand man of Ivashchenko's son, as well as former Urzuf chief Anatoliy Avramov, are also involved in the scheme, the report reads.
Andriushchenko also said that the Russian Emergency Ministry operatives keep looting households en masse. Mariupol residents report that, surprisingly, these officials use exclusively Ukrainian hryvnias when they shop (sometimes dollars and euros) and almost never Russian roubles.
"It is clear where their hryvnia and foreign currency come from - from the homes of Mariupol residents. In general, this occupying power doesn't tire of proving that it is incapable of doing anything but destroy and loot," said the mayor's advisor.
Russian aggression has caused one of the biggest humanitarian catastrophes in Mariupol. The city was almost completely destroyed by enemy shelling.
Currently, Mariupol has no normal power, water and gas supplies. Since the beginning of the Russian invasion, up to 22,000 civilians have died in the city. Today, more than 100,000 people stay in the blocked city. There is a threat of environmental and epidemic disasters.
The Russians assigned collaborator Kostiantyn Ivashchenko to the post of Mariupol "mayor" and are creating for the media a picture of "city life coming back to normal."
Photo: Stringer, Anadolu Agency