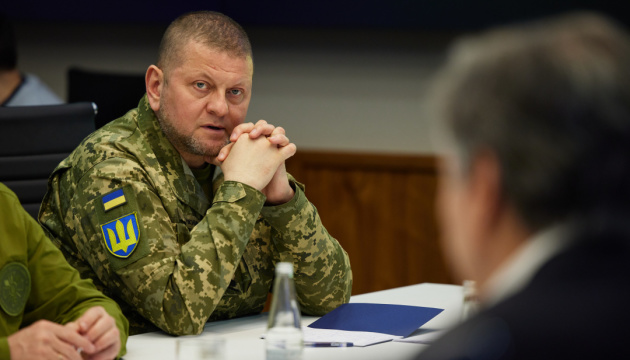 Ukraine Army chief calls on U.S. to provide more 155 mm artillery
The Commander-in-Chief of the Armed Forces of Ukraine, Valeriy Zaluzhny, in a phone call with the Chairman of the Joint Chiefs of Staff, General Mark Milley, informed him about the current situation at the front and the need for Ukraine to get more new artillery pieces as soon as possible.
Zaluzhny said this on Telegram, Ukrinform reports.
"I emphasized that the enemy concentrated its main efforts in the north of the Luhansk region. They use artillery en masse and, unfortunately, they have a tenfold fire advantage. Despite everything, we keep holding our positions. Every meter of Ukrainian land there is spilled by blood, not only by ours, but also by the occupier's one. The situation is complicated, in particular, in the city of Sievierodonetsk. Up to seven battalion tactical groups were deployed by the enemy there. Despite the heavy fire, we managed to stop the enemy," Zaluzhny wrote.
He noted that Russia's invading forces, having failed to advance in the Luhansk direction, resumed the shelling of residential areas in Kharkiv, which requires the Ukrainian Armed Forces to take adequate action.
Also, the Russian armed forces continue to fire artillery and mortars at Ukrainian defense forces in the Chernihiv and Sumy regions. The Ukrainian Armed Forces are returning fire. In some areas, Ukrainian defenders have launched counter-offensives, Zaluzhny said.
According to him, the front line currently stretches 2,450 kilometers, with active hostilities taking place along a 1,105-kilometer front line.
"I reiterated my request to General Milley - to help us get more 155 mm caliber artillery systems in the shortest possible time. I also shared with my counterpart the strategic goals of the General Staff of the Armed Forces of Ukraine. Understanding the strategy of our armed struggle and operations will help to ensure transparency of relations with partners, clear and understandable quantitative and time frames of the international technical assistance we are asking for," Zaluzhny added.
According to him, he also discussed with Milley the transfer and use of weapons already provided by the U.S., drawing analogies with the WWII lend-lease system and discussing scenarios for further developments.