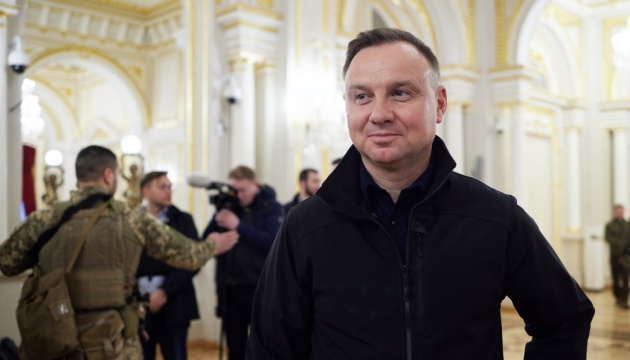 Duda: Poland has sent more than 240 tanks, about 100 armored personnel carriers to Ukraine
Poland has sent weapons worth nearly $2 billion to Ukraine, including more than 240 tanks and about 100 armored personnel carriers.
"We sent tanks from Poland to Ukraine: almost two combat tank groups. There are more than 240 tanks that the Ukrainian army can service. We have sent almost a hundred armored personnel carriers," President of Poland Andrzej Duda told the Bild German newspaper in an interview, Ukrinform reports.
He added that Warsaw had also supplied Kyiv with small arms, ammunition, military equipment.
"In total, we have sent weapons worth nearly $2 billion to Ukraine," Duda said.
He also called on those, who can provide Ukraine with heavy weapons, including long-range systems and rocket artillery, to do so. According to him, the transfer of such equipment to Kyiv would be a response to Russia's artillery and rocket attacks on Ukrainian cities.
"Ukraine's response in the form of heavy artillery and rocket artillery is really the only means against the Russian offensive now," Duda noted.
He added that Poland also expected to receive compensation from Western allies, including Germany, in the form of weapons to fill the gaps in the Polish army following the transfer of military equipment to Ukraine.
The President of the Republic of Poland noted that Warsaw would like to receive American weapons of the latest generation within the framework of the lend-lease program adopted by the United States to help Ukraine.
He noted that Berlin had also adopted a program that allows providing compensations to some countries for the loss of weapons transferred to Ukraine. The Polish leader noted that Poland wanted to receive Leopard 2A4 main battle tanks from Germany. However, as Duda noted, Berlin has not yet done anything in this direction.
As reported, on February 24, Russia launched a new phase of the war against Ukraine – a full-scale invasion. Russian invaders shell and bomb peaceful Ukrainian cities, towns, and villages, torture and kill civilians. Ukraine's defense forces fiercely resist Russian invaders.
ol