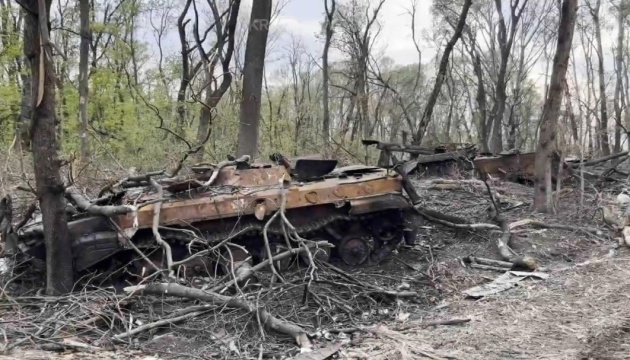 Lviv paratroopers destroy enemy APC, two tanks and 15 invaders
The artillerymen from the 80th Separate Air Assault Brigade of the Armed Forces of Ukraine have destroyed Russia's armored personnel carrier (APC), two tanks and 15 troops, when they were about to launch an offensive in eastern Ukraine.
The relevant statement was made by the 80th Separate Air Assault Brigade on Facebook, an Ukrinform correspondent reports.
"Near the town of N., Russian occupiers tried to enter the flank of our units with tanks and develop an offensive. But, the plan of Putin's 'mansteins' was thwarted thanks to an accurate, coordinated and systematic interaction between intelligence and the artillerymen of the 80th Air Assault Brigade," the report states,
Having noticed the movement of enemy tanks, intelligence units passed their location coordinates to the artillerymen, who immediately launched a strike on Z-marked enemy vehicles. As a result, Russia's MTLB vehicle and two tanks burnt down. The rest of tank crews retreated in panic.
According to the 80th Separate Air Assault Brigade, on that day, they also hit a house with Russian personnel, having eliminated about 15 enemy soldiers.
mk