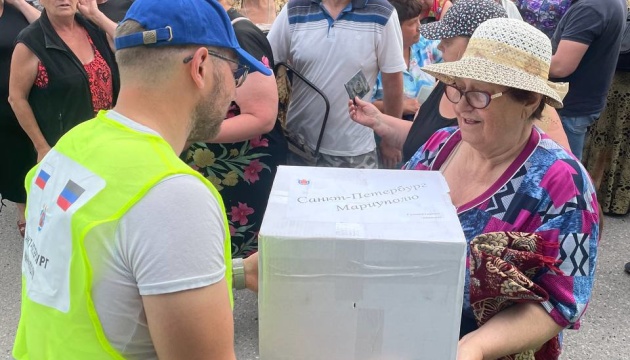 Only 0.25% of Mariupol residents receive Russian "humanitarian aid"
In the occupied Mariupol, Russian invaders announced humanitarian aid from the city of St. Petersburg, which is enough for a mere 0.25% of the local population.
That's according to Mariupol mayor's advisor Petro Andriushchenko, Ukrinform reports.
"Propaganda comes first while people can wait. The occupiers report that 300 Mariupol residents have received humanitarian aid from St. Petersburg. As many as 300 of them! That is, 0.25% of the current population," Andriushchenko wrote.
He recalled that more than 120,000 people currently remain in captured Mariupol, and that all of them suffer from food and water shortage.
"And it's the invaders who are fully responsible for the occupied and destroyed city," said the mayor's advisor.
As reported, Russia's aggression has caused one of the biggest humanitarian catastrophes in Mariupol. The city had been almost completely destroyed by enemy shelling.
Today Mariupol has no stable power, water, and gas supplies. Amid Russian invasion, up to 22,000 civilians have been killed in the city.
Mariupol is currently on the verge of environmental and epidemic disasters.
Russian invaders declared collaborator Kostiantyn Ivashchenko new "mayor" and are now trying to create for the media a picture of "city life going back to normal."