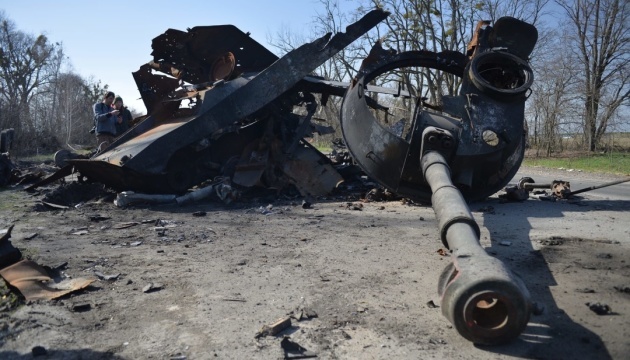 Ukraine's Armed Forces eliminate 26 invaders, 10 enemy equipment units in south
The situation on the line of contact of the southern front remains tense.
"Continuing insidious 203mm heavy artillery shelling of Mykolayiv city, ruscists hit residential neighborhoods, kill citizens, ruin civilian buildings, destroy cars," the Operational Command "South" posted on Facebook, Ukrinform reports.
Meanwhile, the Command added, two helicopter strikes on accumulation of forces and positions of the enemy in Kherson region and two airstrikes by pairs of aircraft on ammunition depots in Mykolayiv region were launched.
The Ukrainian missile and artillery units of the Armed Forces of Ukraine together with aviation eliminated 26 invaders and 10 enemy equipment units, including a tank, six armored vehicles, two vehicles, and a howitzer.
The Russian naval group in the Black Sea continues to keep two surface and submarine cruise missile carriers ready. A large landing ship is on alert as well. The threat of missile strikes from the sea, land and air remains, as well as the possibility of a landing operation.
On February 24, the Russian Federation launched a new phase of the war against Ukraine – a full-scale invasion. Russian invaders shell and bomb peaceful Ukrainian cities, towns, and villages, torture and kill civilians. Ukraine's defense forces fiercely resist Russian invaders.
ol