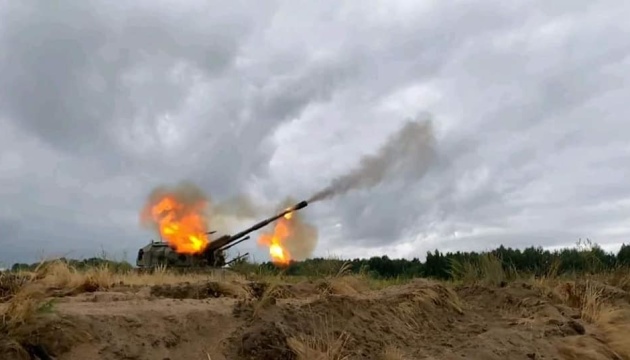 Ukrainian military reinforces defense in Kharkiv direction
In Kharkiv direction, the Ukrainian military reinforces the defense in the areas of the improved tactical position.
"In Kharkiv direction, measures are taken to reinforce the defense in the areas where our troops managed to improve their tactical position," Commander of the Defense Forces, Lieutenant General Serhiy Nayev said while visiting the Ukrainian positions, the Joint Forces Command of the Armed Forces of Ukraine posted on Facebook.
According to the Commander, the enemy continues artillery shelling and launches airstrikes in Donetsk direction. In Zaporizhzhia direction, the Ukrainian troops shore up the resilience of their defense to prevent an enemy breakthrough. In Luhansk region, the Ukrainian troops repel numerous enemy attacks that last almost all night and all day. The enemy carries out six or more offensive actions in the areas of responsibility of some brigades.
According to Nayev, the groups of troops in Kharkiv, Luhansk, Donetsk, and Zaporizhzhia directions are led by experienced combat generals who take all possible measures to strengthen the resilience of defense.
ol