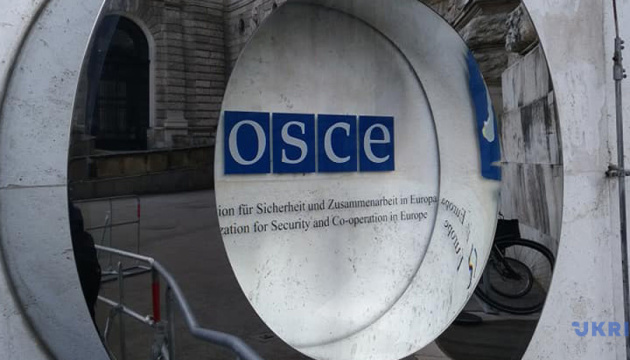 Ukraine at OSCE talks about abduction of children by Russians
The Ukrainian delegation to the OSCE raised the issue of the illegal deportation of about 230,000 Ukrainian children to Russia and granting orphans expedited Russian citizenship.
As an Ukrinform correspondent reports, the issue was raised during the OSCE Permanent Council meeting in Vienna on Thursday.
"Aunty Ira, I'm in Russia, I was taken here by the Russian military. I'm writing to you in secret, I managed to get a phone for a few minutes. My mother is no longer alive, she was killed under fire. They say I'm an orphan. But I'm not an orphan, I have you, I have grandparents. There are so many children like me here. They say they want to leave us in Russia. And I don't want to stay in Russia! Aunty Ira, get me out of here. I want to go home, to Ukraine," Head of Ukraine's mission to OSCE Yevhenii Tsymbaliuk quoted the message sent by a Ukrainian child deported to Russia.
As he stated, since the beginning of the full-scale Russian war against Ukraine, about seven million Ukrainian children have been forced to become adults: "Instead of lullabies, they listen to air raid sirens. They distinguish between the sounds of artillery shells, mines and cruise missiles. Sounds they must not have heard. Their playgrounds are littered with unexploded ordnance. They don't run with a ball, they run away from shells approaching."
The ambassador also informed foreign diplomats about the appalling figure: since February 2022 alone, 243 children have been killed due to Russian aggression, 446 have been injured, and thousands have suffered psychological trauma and are constantly under threat.
"In addition, some of them are still in danger even after the end of hostilities. At least 230,000 Ukrainian children have been deported to Russia. And how cynical is to sign a decree that expedites granting Russian citizenship to Ukrainian orphans or those left without parental care on the eve of International Children's Day. In fact, the Russian president legalized the abduction of Ukrainian children," Tsymbaliuk said.
It is a gross violation of the 1949 Geneva Convention relative to the Protection of Civilian Persons in Time of War, the 1989 UN Convention on the Rights of the Child, and the Convention on the Prevention and Punishment of the Crime of Genocide, the diplomat stressed.
"But this is what is called Russia's state policy. First, they come to kill their parents, and then they take children away," said the head of Ukraine's mission to OSCE.
On February 24, Russian president Vladimir Putin announced the beginning of a full-scale invasion of Ukraine. Russian troops shell and destroy key infrastructure facilities, massively fire on residential areas of Ukrainian cities, towns, and villages using artillery, MLRS, and ballistic missiles.
The invaders unleashed mass terror in the temporarily occupied territories.
ol