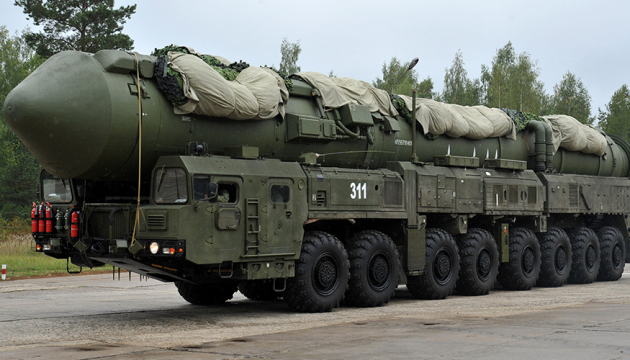 Russia's strategic nuclear force conducting exercise
Against the background of Russia's full-scale war against Ukraine, the Russian defense ministry has announced that the country's nuclear forces are undergoing exercises in Ivanovo region.
This was reported on the ministry's website, Ukrinform reports.
"In Ivanovo region, autonomous launchers of the Yars mobile ground-based missile system manned by the Teikovsky group of the Strategic Missile Forces are carrying out intensive maneuvering on combat patrol routes as part of the exercises," the statement said.
According to the Ministry of Defense, about 1,000 servicemen are involved in the exercises, along with over 100 units of equipment. "Strategic missiles are working on deploying missile systems in field positions, moving up to 100 km, dispersing units with changing field positions, the latter's engineering fortification, camouflaging, and combat protection," the ministry said.
The Strategic Missile Force is a major component of Russia's strategic nuclear forces, designed to ensure nuclear deterrence to possible aggression. They are based on Yars complexes, capable of hitting targets at a range of up to 11,000 kilometers. They are equipped with a detachable main part with the individual targeting maneuvering units.
On February 24, Russia launched a new phase of its war against Ukraine – a full-scale offensive. The enemy has been massively shelling and bombing peaceful Ukrainian towns and villages.
Photo: getty images