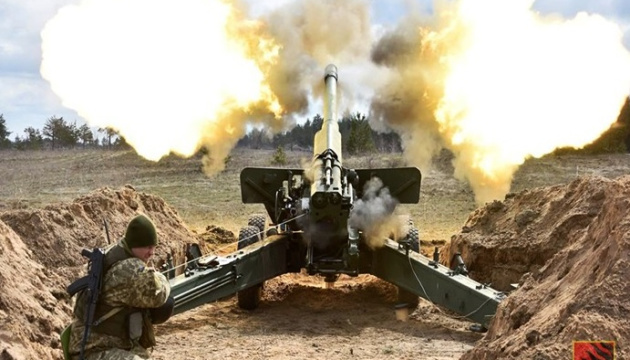 Ukrainian forces repel 14 enemy attacks, destroy 11 armored vehicles in JFO area
Ukrainian servicemen from the Joint Forces Task Force have repulsed 14 enemy attacks in the Donetsk and Luhansk regions, with fighting going on in three areas.
According to Ukrinform, the press service of the Joint Forces Task Force said this on Facebook.
According to the report, along the entire line of defense the enemy uses combat aircraft, multiple rocket launchers, large-caliber artillery, tanks, mortars of various systems, launching missile and bomb strikes on civilian infrastructure and residential areas.
Russian troops fired on 46 settlements in the Donetsk and Luhansk regions, destroying and damaging 62 civilian facilities: 59 residential buildings, an electric substation and a community center.
As a result of these shelling attacks, at least three civilians were killed and two others injured in the Pokrovsk and Bakhmut districts of the Donetsk region.
"Ukrainian defenders from the Joint Forces Task Force repulsed 14 enemy attacks today. Fighting with the occupiers continues at three more locations. Our brave warriors are inflicting losses on ruscist invaders in manpower and equipment," the statement reads.
In the past 24 hours, Ukrainian forces destroyed two artillery systems, 11 armored vehicles and ten enemy vehicles.
In addition, Ukrainian defense units shot down two X-59MK cruise missiles and three Kub high-precision unmanned aerial vehicles.
In all, servicemen from the Joint Forces Task Force repulsed 76 enemy attacks in the past week, destroying 22 tanks, a piece of special equipment, 17 artillery systems, 67 armored fighting vehicles, a special armored vehicle and 28 motor vehicles (one of them with ammunition). Ukrainian air defense units shot down an enemy K-52 helicopter, three cruise missiles and 25 unmanned aerial vehicles.