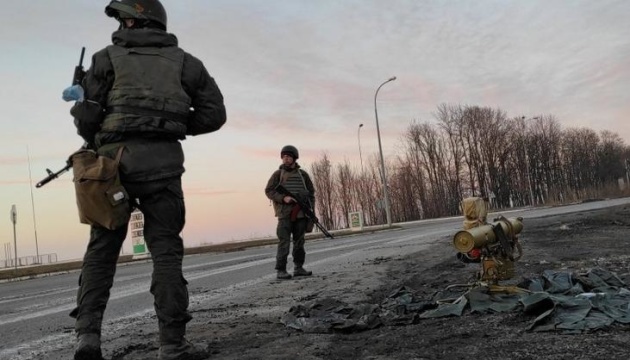 Better for Army if civilians evacuate as asked – airborne assault unit commander
It would be easier for the Armed Forces of Ukraine to fight if civilians fled the warzone when asked by the military, according to Ukraine's paratroopers.
The relevant comment came from Major Yevhen Shamataliuk, Battalion Commander with the 95th Separate Airborne Assault Brigade, who spoke with Ukrinform.
"We always try to evacuate civilians. We take everyone who wants to go. Sometimes we insist, we do awareness campaigns among civilians on the need to evacuate. Unfortunately, there are still those who refuse," said Shamataliuk, who is now leading his unit in the Izium direction.
According to the commander, it's mostly the elderly who remain in hostility zones, but there are also middle-aged people.
People often agree to evacuate when they see their neighbors being killed or their homes – destroyed by Russian shelling – that's when it gets too close to them, so to speak. Sometimes people come and ask for evacuation during the active phase of hostilities, despite the fact that they had refused just weeks ago," the commander said.
According to Shamataliuk, the UAF fighters had a firsthand account of how the Russians treat the civilian population.
"I remember that one time when on one side of the village, there were our units, and on the other – the enemy. To our right there was a road which people used to evacuate from Izium. Back in the day, evacuations were still possible so people would ride buses or drive their cars. The enemy would always fire on that road. We personally saw a tank firing on a bus carrying civilians, right next to us," the major said.
"You can't find words to describe your feelings when you see women, children, and elderly people who just want to escape the war and still get killed… Who do you have to be to just go and shoot civilians?! We tried to help, provide cover for those people, and get them out of that bus, and we did take some out under fire, provided our military vehicles, and take them to a safe place," Shatamaliuk said.
He added that it would be much easier for the Armed Forces to fight if civilians immediately got out of town when asked by the military.
"Then there would be much fewer casualties among both civilians and the military. But, unfortunately, not everyone seems to understand this," Shatamaniuk added.
As Ukrinform reported earlier, hundreds of cars were stranded for days out on the road as the invaders wouldn't let them pass through a checkpoint in Vasylivka, Zaporizhia region.