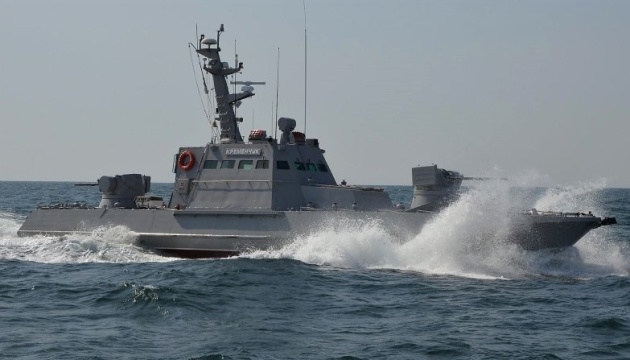 Russians plot provocations in Black Sea using seized Ukrainian vessels
Russian invaders are preparing new provocations in the Black Sea and are likely to use Ukraine's Gurza-M boat captured by them at Berdiansk Port for this purpose.
The relevant statement was made by the Association of the Reintegration of Crimea on Facebook, an Ukrinform correspondent reports.
"The aggressor transferred the Gurza-M artillery boat of the Ukrainian Naval Forces, which was captured at Berdiansk Port, to the Black Sea. In May, this boat was spotted in the bays of Sevastopol and near Snake Island," the report states.
Reportedly, Russian occupiers are making attempts to use the Gurza-M radio equipment to spread fake messages on the frequencies intended for navigation safety.
To the south of Snake Island, there is a "constant gathering of merchant ships sailing in the Romanian territorial waters towards the Ukrainian ports on the Danube, such as Reni and Izmail".
According to the Association, the aggressor may use the seized Ukrainian vessels, namely the aforementioned boat, to make direct provocations against merchant ships from third countries, including casualties or marine pollution, and accuse the Ukrainian side of this.
In addition, Russian occupiers may launch an attack, allegedly by the 'Ukrainian' boat, on the service or special vessels of Bulgaria, Georgia, Romania or Turkey, or even use the seized boat to open fire on civilian objects at the coast of Bulgaria and Romania.
The Association has already reported that Russian invaders are committing new and new provocations in the Black Sea. In particular, the aggressor announces fake 'humanitarian corridors' from Ukrainian sea ports, allegedly "to allow the merchant ships to leave them". But, such corridors are announced either from the ports seized by Russian invaders, such as Kherson Port, or the ports which are continuously shelled by Russia's Black Sea Fleet.
In May 2022, Russian occupiers also enhanced their military unit on Snake Island, having deployed air defense systems, unmanned aerial vehicles and artillery systems there.
mk