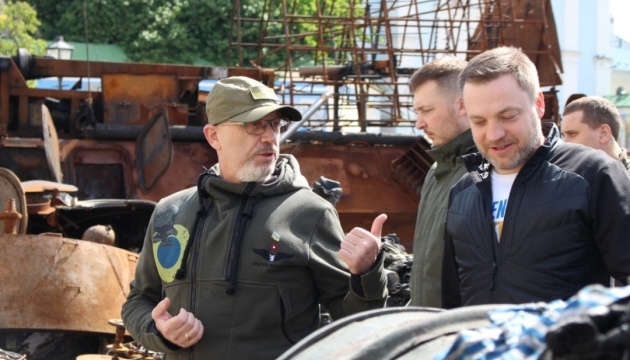 "World's second-strongest" army can and should be defeated - Ukraine's Defense Minister
Ukrainian Defense Minister Oleksiy Reznikov and Interior Minister Denys Monastyrskyy have visited an exhibition of destroyed Russian military equipment in Kyiv's Mykhailivska Square.
That's according to ArmyInform.
Oleksiy Reznikov said that the exhibition had been set up for several reasons. First of all, to celebrate heroism and courage of the Armed Forces and the entire security and defense sector, as well as to remind Ukrainians that the war – its active phase – is still ongoing.
"It's too early to relax and join the party of those who 'ended the war.' The war continues, and now there are difficult battles in Donbas region, Kharkiv region, and southern Ukraine. We are yet to complete the campaign to defeat the orcs. And the third reason is that we have to show the whole world that what's claimed to be the world's second-strongest army can and should be defeated. They must be destroyed. And the exhibit is just a testament to that," said the Defense Minister.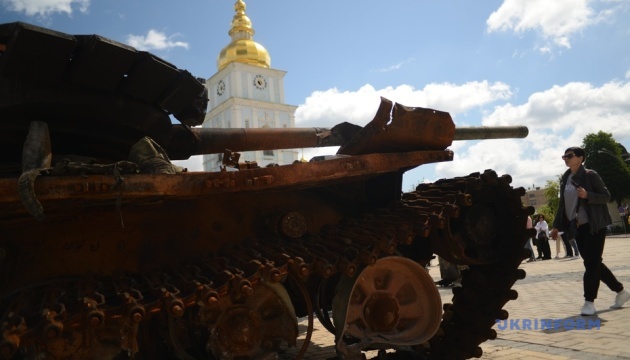 He also noted that the Ministry of Defense, Ministry of Internal Affairs, Ministry of Foreign Affairs, Ministry of Culture and Information Policy, Ministry of Community and Territorial Development, and Ministry for Veterans' Affairs are all involved in the project.
As reported, on May 22, destroyed military equipment once manned by Russian invaders was put on display in Mykhailivska Square in Kyiv, including a T-72B3 tank, a BMD-4 turret, an electronic warfare (EW) system, and part of a Tigr armored truck.
From February 24 to May 28, the Armed Forces of Ukraine eliminated about 30,000 Russian servicemen.