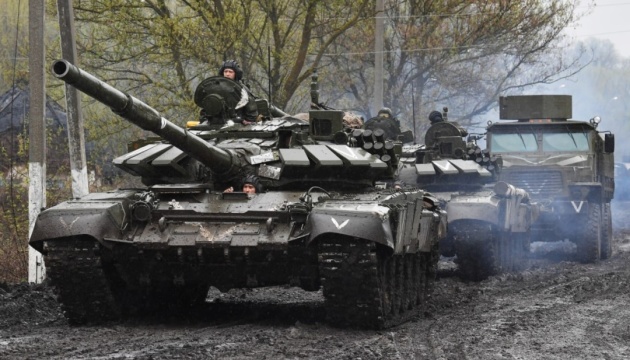 Russian troops renew assault on Sloviansk
The Russian army has renewed its assault on the town of Sloviansk in Ukraine's Donetsk region.
The General Staff of the Armed Forces of Ukraine said this in its latest war update published on Facebook.
In the Sloviansk direction, Russian invaders continue to shell the positions of the Ukrainian Armed Forces and resumed the offensive.
In the Donetsk direction, the invaders are conducting offensive operations and continue to fire on Ukrainian units, launching missile strikes and regrouping troops.
The enemy is trying to make some gains in the Bakhmut direction, disrupt Ukrainian supply chains and cut off Ukrainian units from the main forces.
In the Lyman direction, the enemy is conducting reconnaissance and trying to gain a foothold in Lyman with the support of artillery.
In the northeastern direction, the enemy continues to strengthen the cover of the Ukrainian-Russian border in the Bryansk and Kursk regions, deploying two battalion tactical groups from the Russian airborne forces.
In the Kharkiv region, the enemy is training personnel for the replenishment of motorized infantry, tank and artillery units. The enemy shells and remotely mines the area where Ukrainian units could be deployed.
Outside Kharkiv, the enemy's main efforts are focused on maintaining their positions and deterring the advance of Ukrainian troops.
In the Southern Buh direction, the enemy continues to take measures to maintain control over the Kherson region by increasing the number of shelling attacks against Ukrainian units, conducting air reconnaissance, fortifying positions and strengthening their forces by transferring reserve units.
In the Black and Azov Seas, Russian warships continue to block civilian shipping.
Over the past 24 hours, Ukrainian defenders have repelled 12 enemy attacks in the Donetsk and Luhansk regions, destroying a tank, five artillery pieces, five armored fighting vehicles and five vehicles. Ukrainian air defense units shot down a Russian Ka-52 helicopter, a cruise missile and an Orlan-10 drone.
A fighter jet of the Ukrainian Air Force destroyed a cruise missile in the Chernivtsi region.
Earlier reports said that despite making several gains in the battles in eastern Ukraine, Russian forces are slow, losing many soldiers and beginning to prepare a "third line of defense."
Photo: AA