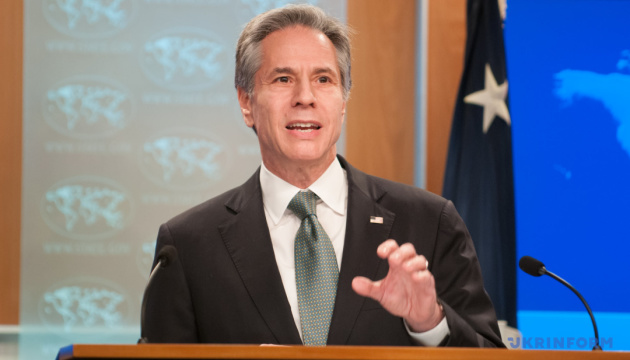 Blinken: West establishes group to help Ukraine investigate war crimes
The United States, the European Union, and the United Kingdom announced the creation of the Atrocity Crimes Advisory Group (ACA) to investigate Russia's atrocities in Ukraine.
According to the press release published by the U.S. Department of State, the joint initiative will support the Office of the Prosecutor General of Ukraine (OPG) in its investigation and prosecution of conflict-related crimes.
The ACA seeks to streamline coordination and communication efforts to ensure best practices, avoid duplication of efforts, and encourage the expeditious deployment of financial resources and skilled personnel to respond to the needs of the OPG as the legally constituted authority in Ukraine responsible for dealing with the prosecution of war crimes on its own territory.
"This initiative will directly support efforts by the Ukrainian Office of the Prosecutor General to document, preserve, and analyze evidence of war crimes and other atrocities committed by members of Russia's forces in Ukraine, with a view toward criminal prosecutions," U.S. Secretary of State Antony Blinken said.
The ACA will bring together multinational experts to provide strategic advice and operational assistance to OPG specialists and other stakeholders in areas such as collection and preservation of evidence, operational analysis, investigation of conflict-related sexual violence, crime scene and forensic investigations, drafting of indictments, and co-operation with international and national accountability mechanisms.
The ACA brings together a multi-national group of war crimes experts from European Union countries, the United States, the United Kingdom and other countries.
According to the Office of the Prosecutor General, 13,748 crimes of aggression and war crimes have been registered in Ukraine to date.
ol