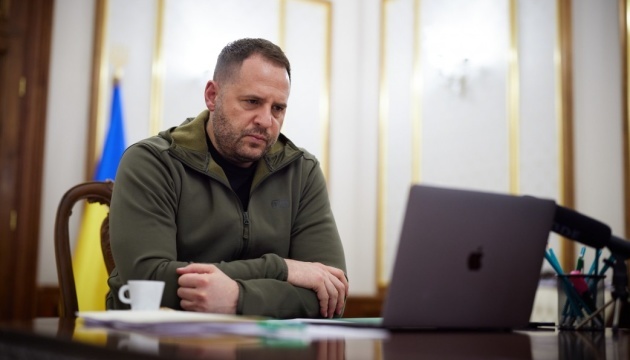 The only way to prevent the war in Ukraine from escalating into world war is to help us win – Yermak
There is only one way to prevent the war in Ukraine from escalating into a continental and even world war: help Ukraine win.
The relevant statement was made by Head of the Office of the President of Ukraine Andriy Yermak at the Securing Europe panel in the framework of the World Economic Forum in Davos, an Ukrinform correspondent reports.
"Ukraine does not have any territorial disputes with Russia. Russia has simply occupied and tried to annex Ukrainian territories. Illegally. Absolutely. More than anyone, we strive for a balanced and rational dialogue. However, Russia's political culture does not provide for a dialogue on equal terms. Its basis is dictation. The language of brute force. More than anyone in the world, we seek peace. But it should be just. Our sovereignty and territorial integrity are not subject to compromise," Yermak told.
In his words, tens of thousands of people have already died in this war, and millions more have had to escape. But, despite all the crimes Russian soldiers committed in Bucha, Mariupol, Chernihiv, and dozens of other locations, the Ukrainian side keeps hearing calls for capitulation for the sake of peace in Europe.
"Some of our partners are still suggesting us to give in to the aggressor to save lives. Negotiations on so-called territorial disputes are proposed. How can one believe it when Russia shows outright intention to destroy Ukraine? How can one hope for it while Russian opinion leaders are calling Ukrainians, us, the wrong Russians? How can one expect it, given the numerous testimonies of acts of genocide against Ukrainians committed by Russian troops? […] So, Ukraine's immediate goal is to stop Russia's brutal aggression and ensure the complete withdrawal of its troops from our lands," Yermak stressed.
According to Yermak, now Ukraine, Europe and the world are dealing with ideologies and practices terribly alike the worst dictatorships of the last century. History teaches us that pacifying an aggressor is futile, as they always take peacefulness for weakness and demand more with every next concession, Yermak added.
"Therefore, there is only one way to prevent the war in Ukraine from escalating into a continental and even world war: help Ukraine win. Now, you don't have to wage this war. Just help us do it. Otherwise, you'll have to. You'll have to send your troops to the battles. Helping Ukraine is a way to resolve the contradiction between values policy and realpolitik. This is a way to send a clear signal to potential aggressors: their actions will not go unpunished," Yermak noted.
A reminder that, on February 24, 2022, Russian President Vladimir Putin initiated a full-scale invasion of Ukraine, starting a war. Russian troops are shelling and destroying the key infrastructure facilities, launching missile and air strikes on Ukrainian cities and villages, torturing and murdering civilians.
Photo: Office of the President of Ukraine
mk