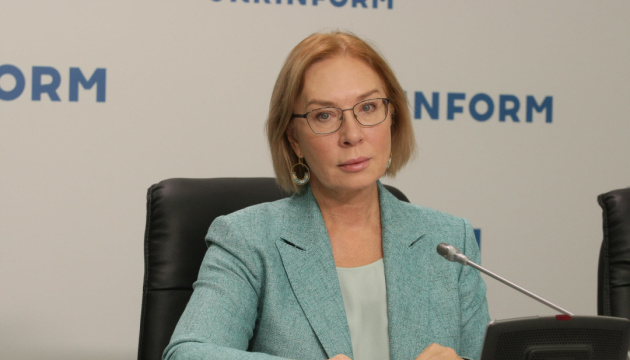 Ombudsperson reports terrifying incidents of child rape by Russian soldiers
Verkhovna Rada Commissioner for Human Rights Liudmyla Denisova spoke of the latest reported cases of Russian soldiers raping children in Oleksandrivka, Kherson region. The youngest victim was just 6 months old. Some of the assaulted children died of the inflicted injuries.
This is stated by the Ukrainian ombudsperson on Telegram, Ukrinform reports.
Russia uses rape and sexual violence in other forms as warfare tactics -- systematically, everywhere, and with shocking brutality," the statement reads.
Over the past 24 hours, a number of residents of Oleksandrivka, Kherson region, reached out to the Commissioner's psychological assistance hotline, giving permission to publish information on the facts of sexual violence," said the ombudsperson.
Elaborating on reported incidents, Denisova reported the case where two girls aged 12 and 15 were raped by Russian forces.
In another incident, an infant girl of 6 months was raped with a teaspoon.
Twin toddler boys, 2, were sexually assaulted in front of their mother. Five Russian soldiers broke in and four of them raped the toddlers in pairs, orally and anally, while the fifth soldier was holding the mother. Both children died of ruptures and blood loss.
In another case of sexual violence, a three-year-old toddler boy was raped in front of his mother by two soldiers. This child also died of injuries sustained in the brutal assault.
Denisova stressed that sexual violence is strictly prohibited by Article 27 of the Geneva Convention relative to the Protection of Civilian Persons in Time of War of 1949. Rape is a war crime and one of the components of genocide.
The Commissioner for Human Rights asked the UN Under-Secretary-General, Special Representative for Sexual Violence in Conflict, Pramila Patten, to initiate an investigation into the voiced facts and bring perpetrators to justice, as well as to take measures to prevent further sexual violence by Russian forces.
Denisova also called on the international community to ensure that personal sanctions are imposed against political leaders, Russian military commanders, and perpetrators of these heinous crimes.