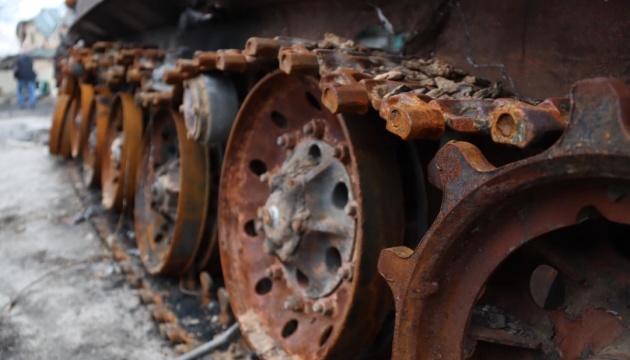 Lviv paratroopers destroy three armored fighting vehicles of Russian invaders
Lviv paratroopers have destroyed three armored fighting vehicles of Russian forces.
The Command of the Ukrainian Air Assault Forces said this on Facebook and posted a respective video, Ukrinform reports.
"The video shows the delicate work of the artillery units of the 80th Separate Air Assault Brigade of the Ukrainian Armed Forces. In particular, Lviv paratroopers destroyed three armored fighting vehicles of the Russian occupiers. The Air Assault Forces are Always First! Glory to Ukraine," the statement reads.
From February 24 to May 20, the Armed Forces of Ukraine eliminated about 28,700 Russian servicemen, including nearly 200 in the past day alone. Also, Ukrainian defenders destroyed 1,263 (+9) enemy tanks, 3,090 (+27) armored combat vehicles, 596 (+1) artillery systems, 200 (+1) MLR systems, 93 (+0) air defense systems, 204 (+1) warplanes, 168 (+1) helicopters, 460 (+5) operational and tactical level UAVs, 103 (+0) cruise missiles, 13 (+0) warships / cutters, 2,162 (+5) trucks, including fuel tankers, and 43 (+0) units of special equipment.