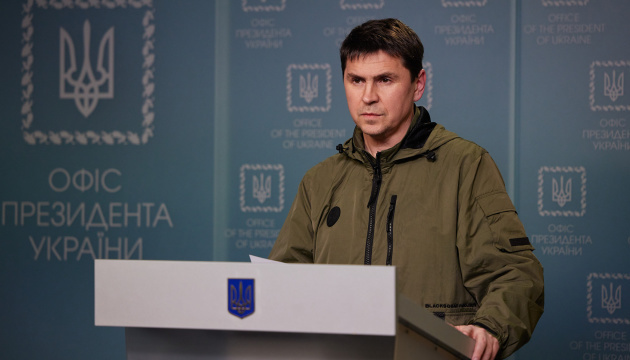 Ceasefire regime without withdrawal of Russian troops makes no sense – Podolyak
A ceasefire regime without the withdrawal of Russian troops is unacceptable.
The relevant statement was made by Advisor to the Head of the Office of the President of Ukraine Mykhailo Podolyak in an interview with Radio NV, an Ukrinform correspondent reports.
"I do not see how it is possible to establish a ceasefire regime without the withdrawal of Russian troops from the territory of Ukraine. This is nonsense. This means they would stay within the demarcation lines they are at now?! It is impossible. These are the new lines, and this is unacceptable to Ukraine, and the President of Ukraine has talked about this many times. We need to push them [Russian troops – Ed.] away, not only to the territory they started their 'special operation' from but even farther. And this is a matter of principle for Ukraine now," Podolyak told.
In his opinion, the 'iron curtain' scenario is the only one Ukraine and Europe should follow.
"So that Russia will stay very and very far away from the human civilization. Not geographically but, at least, behind some borders," Podolyak noted.
In this regard, Podolyak stressed the importance of increasing sanctions pressure on Russia.
A reminder that, on February 24, 2022, Russian President Vladimir Putin initiated a full-scale invasion of Ukraine, starting a war. Russian troops are shelling and destroying the key infrastructure facilities, launching air and missile strikes on Ukrainian cities and villages, torturing and murdering civilians.
mk