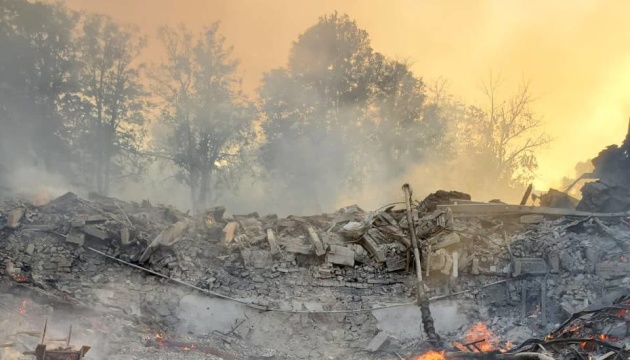 Enemy trying to break through to administrative border of Luhansk region
To date, Luhansk region is the main outpost for deterring the Russian armada, so the fierce fighting is ongoing here.
"We have reinforcements, because we see that Luhansk region is just the same outpost as Mariupol was. Because reaching the administrative borders of Luhansk region and capturing Sievierodonetsk and all towns will be at least a sort of victory for the Russian army, at least something that can be sold to their people," Head of the Luhansk Regional Military Administration Serhiy Haidai said during the nationwide telethon.
As he explained, while Luhansk region is holding on, it restrains a huge number of enemy troops, preventing them from fulfilling their tasks.
"As long as we keep them in Luhansk region, our troops can perform missions in Kharkiv region, can build better lines of defense in Donetsk region, and so on. That is, Luhansk region is the main outpost for deterring the Russian armada now," the head of the administration stressed.
He also noted that the Russian troops would not go through Donetsk region in a day or two, a week or a month, "so it is a very difficult outpost."
"Meanwhile, a small area is left in Luhansk region, so it's just a coveted prize for them, at least something to show, at least some sort of victory. Of course, our guys will fight to the bitter end, and reinforcements are coming, so the fight here will be very serious," Haidai said.
As reported, Luhansk region is under constant Russian army fire. Many houses, infrastructure facilities, educational establishments are ruined and hospitals are damaged in the region. According to the head of the Luhansk Regional Military Administration, more than 40,000 civilians stay in the region, refusing to evacuate.
ol