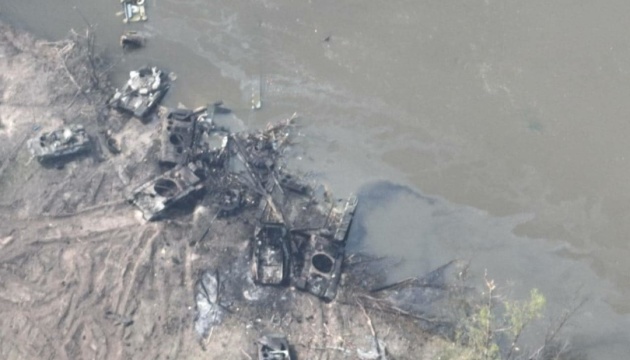 NYT: Growing evidence of military disaster pierces pro-Russian bubble
The losses of Russian troops on the Siversky Donets River in Luhansk region are one of the deadliest known engagements of the war.
The estimates based on publicly available evidence now suggesting that well over 400 Russian soldiers were killed or wounded, The New York Times reports.
On May 11, the Russian command reportedly sent about 550 troops of the 74th Motorized Rifle Brigade of the 41st Combined Arms Army to cross the Donets River at Bilohorivka, in the eastern Luhansk region, in a bid to encircle Ukrainian forces near Rubizhne. Satellite images reveal that Ukrainian artillery destroyed several Russian pontoon bridges and laid waste to a tight concentration of Russian troops and equipment around the river," the article says.
The Institute for the Study of War indicated that there could have been as many as 485 Russian soldiers killed or wounded and more than 80 pieces of equipment destroyed.
As the scale of what happened comes into sharper focus, the NYT writes, the disaster appears to be breaking through the Kremlin's tightly controlled information bubble.
In particular, pro-Russian war bloggers start to speak about Russia's failures on the battlefield, doubting the competence of Russia's military leaders.
If the estimates that hundreds of soldiers were killed or injured on Siversky Donets River prove accurate, it would be one of the deadliest known engagements of the war, the NYT notes.
On February 24, Russian president Putin announced the beginning of a full-scale invasion of Ukraine. Russian troops shell and destroy key infrastructure, massively fire on Ukrainian cities, towns, and villages using artillery, MLRS, and ballistic missiles.
ol