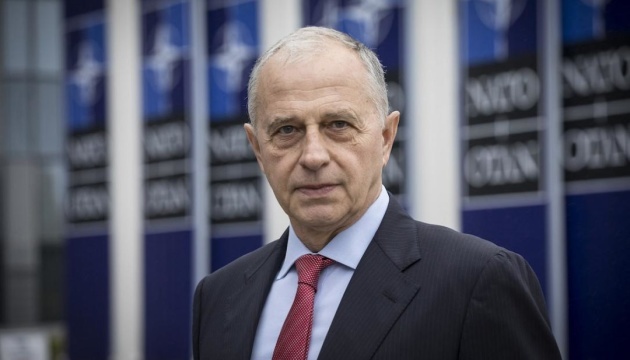 NATO says Ukraine can win war started by Russia
The bravery of the Ukrainian people, practical and financial assistance from allies and partners, and the immense public support all over Europe and around the world will help Ukraine win the brutal war started by the Russian Federation.
NATO Deputy Secretary General Mircea Geoană said this ahead of the informal meeting of NATO ministers of foreign affairs in Berlin on Sunday, May 15, according to an Ukrinform correspondent.
"Today we will be focusing on the latest developments in Ukraine. The brutal invasion of Russia is losing momentum. And with significant support from Allies and partners in billions of dollars, in military support, in financial support, humanitarian support, we know that with the bravery of the Ukrainian people and army and with our help Ukraine can win this war," he said.
He also congratulated Ukraine on winning the Eurovision Song Contest.
"I would like to congratulate Ukraine for winning the Eurovision contest. And this is not something I'm making in a light way. Because we have seen yesterday the immense public support all over Europe and Australia for the bravery… Of course the song was beautiful, it is beautiful. So the message we want to send to Mr. Putin is that they've started the most brutal and cynical war since the Second World War, that probably he would, he was sincerely surprised by the bravery of the Ukrainian people and by the unity of the political West. So I'm saying that we are united. We are strong, will continue to help Ukraine in winning this war," Geoană said.
On February 24, Russia launched a full-scale invasion of Ukraine and continued its military aggression that began in 2014. Russian troops are bombing and shelling Ukrainian cities, towns and villages, killing and torturing civilians.
Photo: NATO