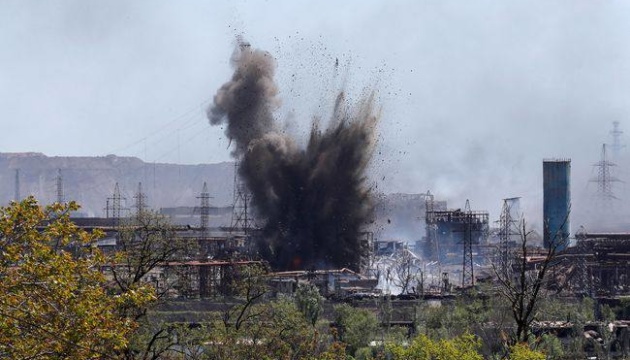 Enemy using incendiary munitions against Azovstal defenders
In Mariupol, Russian invaders started using incendiary shells against Ukrainian servicemen defending their last stronghold in the city, the Azovstal steelworks.
This was reported on Telegram by the adviser to the Mariupol Mayor, Petro Andriushchenko, Ukrinform reports.
"Yesterday, the occupiers used incendiary or phosphorus bombs against Mariupol Defenders for the first time (we will leave the conclusion to specialists). The occupiers themselves claim that 9M22C incendiary shells with thermite layers were applied. The combustion temperature is about 2,000-2,500 degrees Celsius. It is almost impossible to stop the burning," he said.
As Ukrinform reported earlier, there are about 600 severely wounded soldiers remaining in the bunkers of the besieged plant, who have no access to proper medical assistance. The Azovstal premises are constantly shelled with all kinds of weapons and attempts are made by Russian forces to storm the site.
Ukraine is involving a number of governments, including Israel, Switzerland, Turkey, and Finland, in the process of negotiations with Russia on the release of Ukrainian forces from the Azovstal plant in Mariupol.
Deputy Prime Minister, Minister for Reintegration of the Temporarily Occupied Territories Iryna Vereshchuk stated that the special evacuation operation from Azovstal will begin with the rescue of severely wounded servicemen and take place in several stages.
Earlier, Ukraine offered Russia to exchange severely wounded Azovstal defenders for Russian POWs.