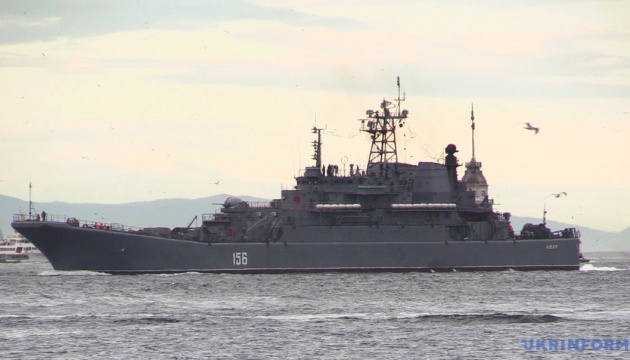 Black Sea Fleet Command withdraws most of ships to bases in Crimea
Most Russian ships have been withdrawn back to bases in the temporarily occupied Crimea. Only two of them are on patrol on the high seas, not diminishing the threat of missile strikes on the regions of Ukraine.
"A naval group of the enemy forces has left two ships on patrol, the rest reinforce their strength and supplies at the bases in Crimea. But this does not diminish the threat of a missile attack and a desperate landing of ruscist paratroopers," Vladyslav Nazarov, spokesman for the Operational Command "South", posted on Facebook, Ukrinform reports.
According to him, the enemy doesn't conduct offensive actions on the ground but fired Smerch MLRS on Mykolayiv city last night. Suburban infrastructure facilities were struck, no one was injured.
Ukrainian missile and artillery units attacked enemy positions 36 times. Enemy losses are being clarified.
A humanitarian crisis is looming in the occupied territories, he noted.
"Collaborative governance, appointed incompetent persons, are not able to solve administrative and economic issues. Providing the region with situational supplies of food, fuel, medicines, etc. no longer creates even the illusion of prosperity. The collaborators themselves are looking for ways to escape from responsibility and imposed responsibilities and flee to Crimea," said the spokesman for the Operational Command "South"
Earlier, Vadym Denysenko, adviser to the Minister of Internal Affairs of Ukraine, said that Russia would not activate the ships of the Black Sea Fleet until it installed air defense systems on Zmiinyi Island.
On May 13, four ships and two submarines carrying more than 30 Kalibr cruise missiles were spotted in the Black Sea.
ol