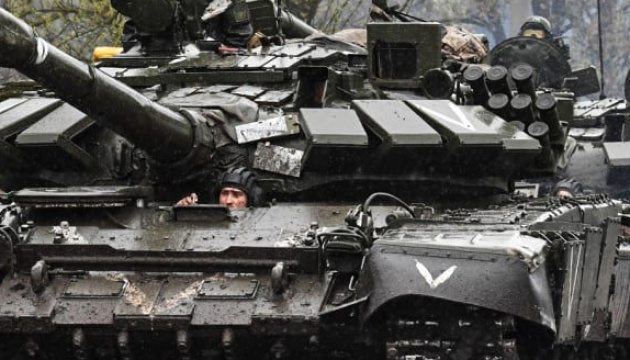 Enemy assaults contact line in Donetsk region backed by aircraft, artillery
The enemy regroups its troops in three directions and continues the offensive in the east. The Russian troops assault the line of contact in Donetsk region backed by aircraft and artillery.
"The enemy continues to conduct offensive operations in the Eastern Operational Zone. The aggressor fires along the entire line of contact and into the depths of the defense of our troops. The occupiers are most active in Slobozhansky and Donetsk directions. The threat of enemy missile and bomb strikes on military and civilian objects in the territory of Ukraine remains," the General Staff of the Armed Forces of Ukraine posted on Facebook.
According to the General Staff data, the situation in Volyn, Polissya and Siversky directions has not changed, the enemy has not taken active action.
In Kharkiv direction, the invaders focused on maintaining positions, controlling supply routes on highways north and east of Kharkiv, and preventing Ukrainian troops from advancing toward the state border.
In Slovyansk direction, the Russian units regroup and lay in materiel stocks.
The General Staff notes that in Donetsk direction the enemy focuses its main efforts on preparing for offensive operations in the area of Sievierodonetsk, Soledar and Bakhmut, replenishing reserves, and regrouping units. Up to two battalion tactical groups were redeployed there. The enemy conducts assault operations along the line of contact backed by aircraft and artillery, has partial success in the area of Avdiivka.
In the Lyman and Sievierodonetsk directions, the enemy regroups and strengthens its troops.
In Mariupol, the enemy continues to block Ukrainian units in the area of ​​the Azovstal steelworks, inflicts massive artillery and air strikes, and carry out assault operations, the General Staff added.
In Zaporizhzhia direction, the enemy focused its main efforts on artillery shelling of the positions of the Armed Forces of Ukraine.
In the Southern Buh direction, the situation has not changed significantly.
ol