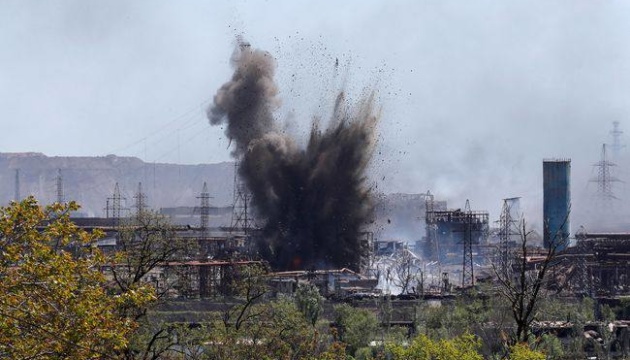 Assault on Azovstal: Enemy drops bombs, deploys heavy artillery, tanks, infantry
Russian troops continue to assault the Azovstal steel plant in Mariupol, bombing and shelling Ukrainian defenders with tanks and heavy artillery.
The Azov Regiment reported this on Telegram, according to Ukrinform.
"The enemy continues to assault the territory of the Azovstal plant. On the 80th day of the full-scale invasion by the aggressor country, the occupiers drop air bombs on the defenders of Mariupol, deploying heavy artillery and tanks," the statement said.
The enemy also uses large numbers of infantry in an attempt to attack Ukrainian positions.
The Azov Regiment stressed that "despite the extremely critical situation, the defenders, making superhuman efforts, repel attempts to break through the positions of defenders and deter the enemy troops."
As reported, Ukraine negotiates the evacuation of 60 people from the Azovstal steelworks.
The fighters of the Azov Regiment, marines, and motorized riflemen continue to defend Mariupol.
The Russian aggressors constantly shell the territory of the Azovstal plant with all kinds of weapons. There are 600 wounded people among the military. There is an acute shortage of medicines. People are dying in agony.
President Volodymyr Zelensky said that the Ukrainian authorities were working on diplomatic options to save people from Azovstal. He also said that Israel, Switzerland, Turkey, and Finland were involved in the process of negotiations with Russia on the evacuation of the fighters.