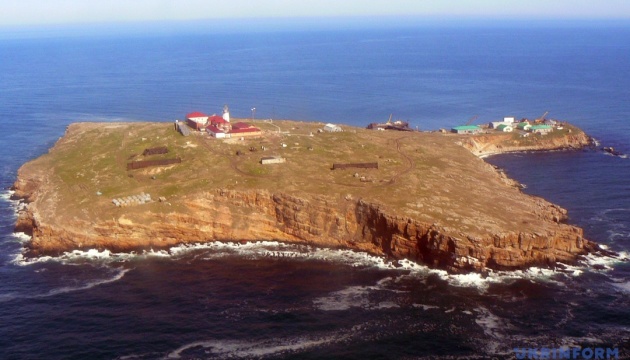 Russian troops trying to turn Snake Island into one of their bridgeheads
Russia's Black Sea Fleet Command is trying to deploy the Pantsir and Tor-M2 air defense systems on Snake Island in order to establish control over the sea trade routes in the northwestern part of the Black Sea and to transfer amphibious groups from there to Transnistria. Therefore, local firefights for this piece of Ukrainian land are turning into a fierce battle.
As Ukrinform reported earlier, this was announced on May 14 by the spokesman of the Odesa Regional Military Administration, Serhiy Bratchuk, who spoke at the national telethon.
"Local battles for Snake Island are turning epic because the enemy is trying to turn this piece of Ukrainian land into their small bridgehead. After all, the Ukrainian Armed Forces recently put their Moskva Cruiser down on on the seabed, which led to the loss of the of air defense dome over the Black Sea Fleet ships, so they needed to compensate for this. That's why this hardware (Pantsir and Tor-M2 systems - ed.) is being pulled to Snake Island to establish and maintain control of the north-western part of the Black Sea ... So the battle of Snake Island will continue until it acquires the previous status of the Ukrainian island, as already stated by the head of Ukraine's military intelligence, Kyrylo Budanov," said Bratchuk.
The spokesman for the administration stated that two Russian Raptor cutters, a small Serna-class landing boat, and a helicopter had been destroyed, while another enemy vessel had been lined up off the coast of Snake Island. Proper repulse forced the enemy to cease air strikes on Odesa and opt for firing cruise missiles from afar.
"The situation around Snake Island remains complicated and the battles will continue – this will be another heroic page of our history," Bratchuk concluded.
According to the Ministry of Defense, the ruscists are currently transporting their KIAs and WIAs from the island to Sevastopol in the occupied Crimea. "Of the forty signals operatives of the Russian armed forces deployed to the island, only eight returned alive. Ten bodies were evacuated at the same time," the statement said.
It should be recalled that Russian troops took control of Snake Island on February 24, after massive shelling and destruction of local infrastructure.